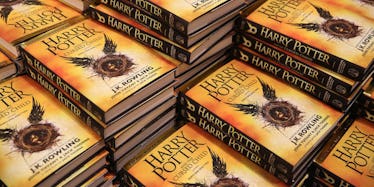 7 Books To Read If You Were Disappointed By 'Harry Potter And The Cursed Child'
REUTERS
WARNING: Spoilers for "Harry Potter and the Cursed Child."
By now most of you diehard fans have read the so-called eighth "Harry Potter" book, aka the printed script of "Harry Potter and the Cursed Child."
Now, if you truly enjoyed the play, I don't want to take that away from you. I enjoyed many parts of it, too.
I loved the dynamic between the characters (particular Scorpius and Albus), and some of the scenes were so beautiful they made my heart ache.
But, overall, the plot was... weird. I mean, time travel? Parallel universes? Voldy Spawn?
There's just no other way to put it: That shit was weird AF. And I know I'm not the only one who felt that way.
Whether it was the non-JK Rowling writers, the different medium or something else entirely, it just didn't feel like a "Harry Potter" story.
Even though I KNEW nothing could ever live up to the original seven books, that didn't stop me from feeling disappointed after I finished "Cursed Child."
But we must remember there are more books out there besides "Harry Potter." Today is National Book Lovers Day, after all.
So, in honor of the holiday, here are some books you might like if you, like me, felt a little let down by "the eighth Harry Potter book."
1. "The Magicians" series by Lev Grossman
"The Magicians" is like going back to Hogwarts as a college student, with the jaded, depressing mindset of an adult. And I mean that in a good way.
Quentin Coldwater will take you on a journey through his discovery of magic and all the darkness that follows. Bonus: There is also now a TV version of the book on Syfy!
2. The "Percy Jackson & the Olympians" series by Rick Riordan
While these books are aimed at a younger audience (much like "Harry Potter" originally was), anyone can appreciate the stories.
Based on Greek mythology, you'll totally get swept up in the adventures Percy and his friends get up to once he finds out he's a demigod. (There is also a movie, but try not to hold that against these books.)
3. "The Raven Cycle" series by Maggie Stiefvater
"The Raven Cycle" is almost like the young Marauders book JK Rowling will (probably) never write.
Follow Blue as she gets sucked into the life of four boys at a rich private school and their world of spirits.
4. "The Song of Achilles" by Madeline Miller
There's no magic in this one, but there is an epic battle, aka the Trojan War.
Based on "The Iliad" and told from the prospective of Achilles' best friend and lover, Patroclus, this book will teach you about classic literature and break your heart.
Bonus for all you Scorpius/Albus shippers out there: It's canon gay, for once.
5. "Fangirl" by Rainbow Rowell
"Fangirl" is great for "Potter" fans because Cath, the main character, is literally all of us.
She's obsessed with the fictional book series from her childhood, "Simon Snow," dresses up for every book and movie premiere and spends her free time writing fan fiction.
Then Cath goes to college and has to learn how to interact with the real world. Sound familiar?
6. "The Mortal Instruments" series by Cassandra Clare
OK, fair warning: This book series started off as plagiarized Draco Malfoy/Hermione Granger fan fiction.
That said, it is a fairly compelling story of supernatural teens going off on world-saving adventures. It definitely has the "Harry Potter" vibe. And it's now a TV show called "Shadowhunters" on Freeform!
7. Fanfiction
Honestly, there is some great "Harry Potter" fan fiction out there that's better than "Cursed Child," in my opinion.
Poke around Archive of Our Own and FanFiction.net, and hit me up in my Twitter DMs if you want some more specific recommendations.
Happy reading!