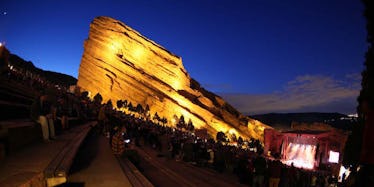 5 Reasons You Need To Attend A Red Rocks Concert This Summer
REX/Shutterstock
As an avid concert-goer since age 6, I've seen over 300 musicians and have been to incredible venues like The Fillmore in Detroit and the House of Blues in Cleveland and Boston.
However, the venue in my own backyard that's trumped them all in terms of experience is Red Rocks Amphitheater in Morrison, Colorado. Highlighted as one of TIME magazine's "Reasons to Celebrate America," Red Rocks more than earned its spot in the limelight.
Here's why you need to head to the Rockies and visit this world-famous concert venue as it celebrates its 75th year.
The View
Red Rocks Amphitheater, in the heart of Red Rocks Park, is part of the Denver Mountain Parks system. With the amphitheater nestled between two 300-foot red sandstone rock formations, the view at Red Rocks gives attendees a unique and incomparable view while they watch their favorite acts.
The stage conveniently sits along Stage Rock, an east-facing formation, which offers a stunning view of the sunset over downtown Denver in the distance.
The Sound
While most large outdoor concert venues struggle to produce a high-quality sound for guests numbering into the thousands, Red Rocks lets nature do the work.
While I personally can't speak to why the sandstone formations create such a magical listening experience, reviews for the venue definitely back this claim, and Rolling Stone even named Red Rocks the "Best Amphitheater in America."
The Performers
Red Rocks is a venue that many artists make a top priority on tour. At the recent sold-out Modest Mouse and Brand New show, Jesse Lacey -- frontman of Brand New -- noted playing Red Rocks was a career must during the band's 16 years (and counting) of live performances.
Additional notable performers who have stopped by this summer include The 1975, The Flaming Lips, The Lumineers and twenty one pilots. Don't worry if you missed these, though, Disturbed, Breaking Benjamin and Ryan Adams are still set to visit this summer.
The Crowd
Like any concert venue, you can count on locals flooding in when big names come to town. At Red Rocks, however, it's not uncommon to spark up a conversation with your neighbors and find they're from out of town. Most recently, I came to find the couple next to me had driven over 1,000 miles to jam to Sublime with Rome.
When creating a melting pot of music lovers from all over the US, it doesn't hurt to have super friendly locals. Named the fourth happiest state in America by Business Insider, we can't help but share the love with locals and tourists alike.
And while the park emphasizes its enforcement of marijuana laws, it's not uncommon for the surrounding crowd to really share the love with Colorado's legal cannabis.
More Than Music
If you can't make it out for a show, you don't have to miss out on the Red Rocks experience. While it's a music venue by night, you can still check out the park during the day with one of the many fitness groups who frequent the park and unwind with a view unlike any other.
During the summer, Red Rocks also offers "Film on the Rocks," where favorites like "Scream" and "The Sandlot" can be enjoyed on the big screen. If you're looking for a more personal experience, the park is no stranger to weddings and special events.
I could go on forever about the beauty and surreal experience Red Rocks provides attendees, or you could hop on a flight to DIA and check it out for yourself before the season comes to an end.