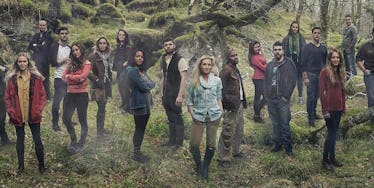 Reality Stars Who Went Into Wild For Year Learn Show Was Canceled After 4 Weeks
Channel 4
What's worse than being on a reality show? Devoting an entire year to a reality show that's already been canceled.
That's exactly whats happened to 10 contestants from the show "Eden," a year-long social experiment/reality TV show where participants were "challenged to create a new model of society."
After being dropped off in the wilderness back in March, a total of 13 participants left the show early, leaving the remaining 10 to fend for themselves until they returned home this past week.
When they got back to society, however, they found out the show hadn't actually made it out of the summer alive after premiering in July, being canceled four weeks later in August.
The show's four hour-long episodes reportedly covered March, April and May's footage.
I'll give you a moment to let that sink in.
Channel 4 had a very logical reason for why it was being such a huge piece of shit here,
The appeal of 'Eden' is that it was a real experiment and when filming began we had no idea what the results would be and how those taking part would react to being isolated for months in a remote part of the British Isles. That's why we did it and the story of their time, including the highs and the lows, will be shown later this year.
Channelg 4 went on to confirm filming is done on the show and said "the contributors are headed back to their old lives."
According to The Telegraph, the show's numbers fell off a cliff after the first broadcast, going  from 1.7 million viewers to 800,000 over the four-episode span.
Just to give you an example of how secluded they were (minus the rumors that occasionally they would be brought into nearby towns), the contestants who returned had no idea about Brexit or even Donald Trump.
Channel 4 says it still plans on airing Eden on "screens" later this year.
Citations: TV Contestants Spent a Year in the Wild Only to Emerge and Find Out Their Show Was Canceled (Cosmopolitan)