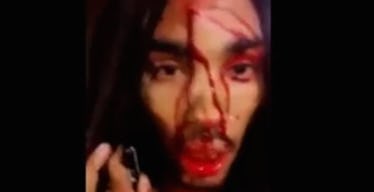 Rapper Casually Posts Video Moments After Being Shot In The Face
Teriq Royal is dedicated to his social media game.
Need proof? Check out this video Royal posted to Facebook just moments after being casually shot in the forehead.
God let me walk away from an AK47 dumpin rounds at me and my bros I just want yall to know GOD IS REAL AND GOD LOVES YOU ! ✊✨we living in some dark days , we wasn't even his targets , he was just trigger happy.(I was in shock when I filmed this , 3 bullet fragments on my skull could have pierced my brain... I'm just blessed to see another day and RAP ABOUT IT ) #BushGang #GoneDieSomeKings Posted by Teriq Royal on Wednesday, October 7, 2015
Yes, moments after bullet fragments from an AK-47 struck him in the forehead, the Compton rapper thought it was a great time to update his fans and followers on his condition.
In the video, Royal, clearly still in shock, mumbles,
I guess I'm really a rap n***a now I just got shot… Me and my soldier are all here, n***a.
In a post on Facebook about the incident, Royal said,
Yes me and the homies got shot at couple days ago AK47 bullet flew past my head and I was hit with the bullet fragments , 3 frags stuck in my forehead for life . They stopped right on my skull before they could enter my brain ... GOD IS REAL YALL ! I should've died that night but I felt God move me back just enough for the bullet to miss. Take this life shit serious ! I was almost on a T-shirt I'm just blessed enough to be here for a reason, can't nobody stop Gods plans
Royal also posted a photo of his x-ray, explaining he will have the fragments in his skull for the rest of his life.
3 bullet fragments resting on my 3rd eye for the rest of my life Posted by Teriq Royal on Wednesday, October 7, 2015
To date, Royal's video has over 1 million views and 5,000 likes.