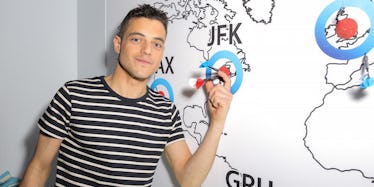 Here's The Reason You Need To Be Watching The TV Drama 'Mr. Robot'
REX/Shutterstock
Whoa boy, you guys are in for a geeky HAWT HAWT HAWT treat with this one.
Let's be real, nothin' fries our motherboards quite like Rami Malek. Oh man, that gorgeous Egyptian chunk of nerd brawn can hack my government encrypted mainframe ALL. DANG. DAY. IFYAKNOWWHATIMEAN!!!!!
*Does a 15 minute sexy sexy dance.*
"Mr. Robot" on its own is a really good show. The plot is great, and while the concept of undercover hackers fighting the "good fight" is a bit overdone, the execution of the series is really something special.
The supporting cast is also remarkable, with Christian Slater and Portia Doubleday really pushing the show to a new level.
All that doesn't matter, though, as Malek is clearly the main reason you probably watch.
He's like a hot tired snake. Like if Gollum went to grad school and you were in class with him and then spent the entire time wondering what scenario would lead to boinkingz.
I can't put my hands on it, but holy eff does he get everyone's motor running. I quickly surveyed the Elite Daily office about whether he was hot or not, and the answer was a resounding "yesyesyesyesyesyes."
This is the transcript of an actual conversation I had with an anonymous employee:
Me: "What do you think of Rami Malek from 'Mr. Robot'?"
Anonymous: "Are you asking would I smash? Of course, I would in a heartbeat."
Me: "... I wasn't asking THAT but glad to know."
We're crotch-deep into season two right now, and if for some reason you haven't jumped on this steamy train yet, I have a few compelling arguments for why you probably want to stop keeping yourself from living your best possible life.
Reason #1: Rami Malek
Reason #2: Rami Malek
Reason #3: Rami Malek
Reason #4: Rami Malek
Reason #5: Rami Malek
Reason #6: Rami Malek
Reason #7: Rami Malek
Reason #8: Rami Malek
Reason #9: Rami Malek
Reason #10: Rami Malek
You can catch all of "Mr. Robot" Season 1 on Amazon Prime, with Season 2 currently airing on USA Network and Amazon Prime the day after.
Now go towel off, soldier.