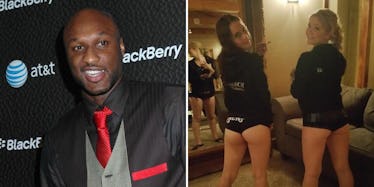 These Are The Two Prostitutes Who Allegedly Found Lamar Odom Unconscious
Getty Images/Twitter
Ryder Cherry and Monica Monroe have been identified in reports as the two prostitutes who found Lamar Odom unconscious at Dennis Hof's Love Ranch.
On Tuesday, Odom was rushed to a nearby hospital after being found unconscious.
Daily Mail is now reporting Odom was found by two workers, Ryder Cherry and Monica Monroe, after allegedly "partying" at the establishment for several days.
@DennisHof @mooretj @RyderCherry @LoveRanchVegas come get this hot package pic.twitter.com/GQsrY6v0Mk — monica monroe (@monicamonroelrv) October 12, 2015
Though the site's FAQ section does admit to having "Viagra Parties," it does not supply the actual Viagra to customers.
Odom was reportedly only using "herbal Viagra" and drinking cognac during his stay at the ranch.
The Love Ranch is owned by Dennis Hof, who owns several pay-for-sex enterprises across Nevada, including the famous Moonlite BunnyRanch, which was featured on HBO's "Cathouse."
After he was found, Odom was rushed to nearby Desert View Hospital but has since been taken to another hospital in Las Vegas where he is reportedly still in a coma and listed as critical condition.
Khloé and Kim Kardashian, as well as Kris Jenner, are all rumored to be on site.
Citations: The prostitutes named Ryder Cherry and Monica Monroe who found Lamar unconscious and raised the alarm at Nevada brothel known for its Viagra parties (Daily Mail)