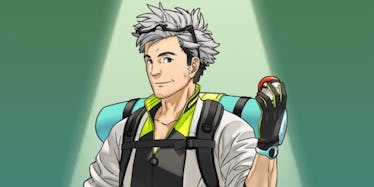 I Tried To Get With Professor Willow On Pokémon Go And Here's What Happened
Pokémon Go
Pokémon Go launched last week, and has already become a staple for PokéMasters who don't mind stumbling into the middle of the street and risking life and limb to add Meowth to their collection.
For the boy crazy slut monsters among us, though, Pokémon Go offers more than just digital sport.
Upon signing up for the app, users are greeted by this pipin' hot slice of manberry pie.
Oh... HEY.
He exists in the Pokémon Go universe to guide us to either catch Pokémon or achieve contact-free climax, I guess.
I wanna find every corner of HIS earth.*
*cartoon butt
He looks like Jeremy Irons and Harry Styles had a love child, and then raised it to dominate triathlons.
I've spent my whole morning studying his strong, masculine jawline.
We both like to study. Looks like we have some stuff in common.
Do you want to come over, or... ?
FUCKING. YES. I. THOUGHT. HE'D. NEVER. ASK.
"I was just looking for someone like you."
BRB. My vagina just exploded.
I'm a VERY hard worker. And yes, that is sexual innuendo. When can I touch his forearms?
OH MY SWEET LORD. HE'S GOING TO DRESS ME???
In that case, I choose whatever Miley wore in the music video for "Wrecking Ball."
Seriously? These are my options?
How am I supposed to get thoroughly effed by an animated sex Jesus with hair like a moody grey sunflower if I'm wearing a baseball cap?
If this is the best I can do, I'll have to seduce him with my talent for Pokémon Go-ing.
TBH, it's now or never.
ON IT, BABE!
I'm playing it so cool, it's almost like I didn't even notice he said "balls."
GET IN THIS BALL, YOU LITTLE COCK BLOCK.
(Please note that I work across from fellow shameless slut monster Eitan Levine, who not only messaged me a selfie from a melancholy porn star's Twitter account, but also keeps an unused BJ machine under his desk at all times: just in case.)
GOTCHA, MY TINY SEXUAL BARTERING TOOL!
I am going to knock Professor Willow straight out of his... Crocs?
Are those Crocs? Whatever, it's fine. I'm still down.
Now that the Pokémon catching is all done, maybe we should – I don't know – get a drink?
OMG, he wants to know my name. HE IS OBSESSED WITH ME.
This is my chance to clarify my general situation, re: availability 4 fuckin'.
YES, I'M SURE. JUST LOCK IT IN.
Oh, really? There appears to be competition for more than just Pokémon in this digital thirst village.
Guess I'll have to be even more direct.
YES. I SAID YES. JUST DO IT, ALREADY.
HE'S INTO IT. HE. IS. INTO. IT.
It's on. It's happening. I want to thank my friends for always encouraging me to follow through on half-baked, typically regrettable sexual schemes.
I want to thank my employers here at Elite Daily. I don't know exactly what I do at this company, but if it somehow involves getting cartoon HPV from a guy so sexy no one even cares that he carries a yoga mat on his back everywhere he goes, I truly could not have asked for a better career.
All right, well. Wish me luck! Ahh!!!
Wait, where'd he go?
Well, shit.