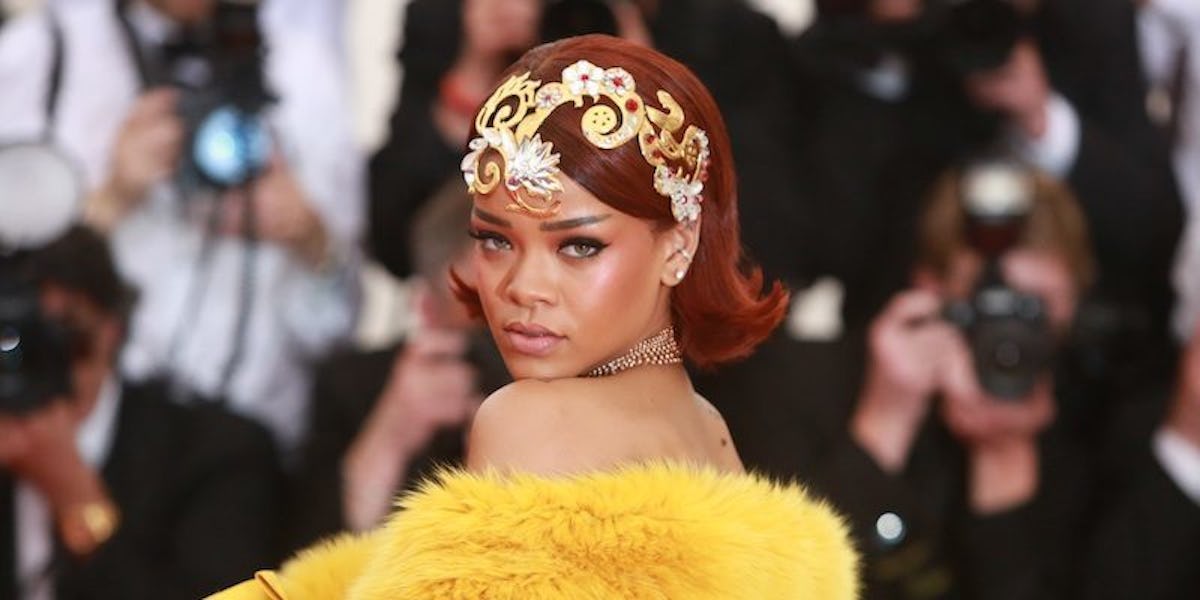 This Is How Much Rihanna's Insane New Dior Sunglasses Will Cost You
REUTERS
There's no shortage of celebs who dabble in the world of fashion design.
Lately, it seems like a lot of fashionistas have been buzzing about Beyoncé's new label.
But, if you already managed to load up your closet with every single IVY PARK ensemble out there, don't worry. We just set our sights on a new star-studded collaboration that will definitely give you some four-eyed fashion FOMO.
Peep the glorious Rihanna x Dior sunglasses collection.
Yep, one of your favorite divas just teamed up with Dior to create a line of insanely stylish sunglasses.
Rumor has it the Rihanna x Dior sunglasses collection is going to be one of the hottest fashion collabs of the summer, and it's not hard to see why.
These sunglasses are just as bad as RiRi herself.
Check out the pictures below for a closer look at Rhianna's gorgeous glasses.
If you're looking to step up your summer style game...
You'll be glad to know there's a new star-studded fashion collaboration on the horizon.
Rihanna x #Dior (sunglasses) pic.twitter.com/HWXqAhkac9 — Rihanna Diva (@RihannaDiva) May 24, 2016
Feast your eyes on the Rihanna x Dior sunglasses collection.
So this is a sneak peak @ Rihanna's sunglasses for Dior... I love them!!!! Bad af pic.twitter.com/hyHrl1qHDq — #30BUSINESSES (@MolestMeKardash) May 12, 2016
Rihanna's gorgeous glasses feature a futuristic style with a wraparound mirrored design that's just as badass as the pop singer herself...
Rihanna looks so damn good in that picture too. Those sunglasses alone would have me fetching anything for her. — benny sway (@faxbrian) May 20, 2016
...and come in a variety of stunning shades including silver, pink, blue, green, red and gold.
Rihanna has teamed up with Dior to create her own line of sunglasses for the brand, available this summer. - I pic.twitter.com/Bmyw0JqqKc — IMONATION (@THEIMONATION) May 25, 2016
However,  if you want a snag a pair of these sunnies, you should probably get ready to work, work, work, work, work, work some overtime...
Rihanna last night in NYC, wearing her Dior Shield Sunglasses and her Manolo heels. pic.twitter.com/7exTlaxaZq — Rihanna Files (@RihannaFiles) May 25, 2016
...because these babies don't come cheap.
I'm gonna need them Dior Sunglasses | RT & TWEET VOTE @RIHANNA #BBMAs pic.twitter.com/bRSoVuCZzW — ️ (@leonxfenty) May 20, 2016
Apparently, the glasses will be priced at around $840 a pair...
.@Rihanna's new @Dior sunglasses will retail at $840 each. https://t.co/YN5lAWEs8A pic.twitter.com/4qEdzc3RSg — The FADER (@thefader) May 25, 2016
...unless, of course, you want the super luxe 24-karat-gold sunnies which go for $1,950.
Rihanna Designed 24-Karat Gold Sunglasses for Dior https://t.co/hgBDkT3mNk pic.twitter.com/yd9ykuJzSF — Cosmopolitan (@Cosmopolitan) May 25, 2016
These chic sunglasses are set to make their debut in early June and will be sold exclusively in Dior stores.
Rihanna's @Dior sunglasses collection drops in June. - @peterkash https://t.co/bOCiQ7WmBl pic.twitter.com/lfHippFCH1 — 93-5 The Move (@935TheMoveTO) May 25, 2016
Citations: How Much Will Rihanna x Dior Sunglasses Cost? Start Saving Now (Bustle)