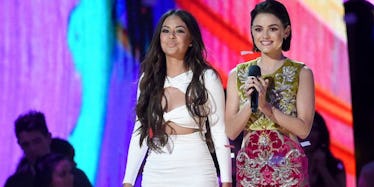 'Pretty Little Liars' Barely Won Any Teen Choice Awards & Fans Are So Pissed
Kevin Winter/Getty Images
OK, stop what you're doing, Liars, because it's time to celebrate, sort of. (Don't get too excited; sadly, we aren't getting another season of the show, nor are we getting a rewritten version of that uhm... interesting finale.) But, just when you thought you'd heard the last from the girls of Rosewood, they're back in our lives again — this time as award-winners. That's right, Pretty Little Liars just won two Teen Choice Awards for Choice Drama TV Actress (Lucy Hale) and Choice TV Villain (Janel Parrish). Though I'm still coming to terms with the fact that the drama won't be back this fall, I'm happy the series took home some of the night's biggest awards during its last year as a nominee. However, I may be one of the only fans to feel that way.
Pretty Little Liars has always fared well at the Teen Choice Awards; indeed, the show has been nominated over 40 times and won 35 times in the past seven years, so it is no surprise the drama pulled in seven nominations and two wins this time around. What was a surprise, though, is that five of the show's nominations were in the same category (forget about trying to figure out who A.D. was, THIS is what real suspense feels like).
It's also a surprise that, even with these wins, PLL still lost in three other categories.
All of the show's main actors: Ashley Benson, Lucy Hale, Sasha Pieterse, Shay Mitchell, and Troian Bellisario were nominated for Choice Drama TV Actress (though Bellisario probably could've been nominated twice because... well... you know *slyly winks*), which made for much more of a thrilling night than the night of the finale episode if you ask me. I mean, seriously... Hanna or Aria? Spencer or Emily? How can anyone be expected to choose a winner?! I feel like all five should get to take home the gold (read: surfboard). Sadly, they all couldn't, and Aria ended up taking hope the honor for the fourth time.
The only non-Liar nominee on the list was Bella Thorne for Famous In Love and, while we love us some Bella, let's be real... it was bound to be a PLL year.
But even with those two victories, fans are disappointed, since PLL also lost Choice TV Drama, Choice Drama TV Actor, and Choice TV 'Ship — all to Riverdale.
Since this was the series' last year, it would've been nice to see it take home a few more surfboards, but at least it got these two. I guess now it really is time to say goodbye to Pretty Little Liars for good. Here's to hoping we'll see our faves nominated again in the future.