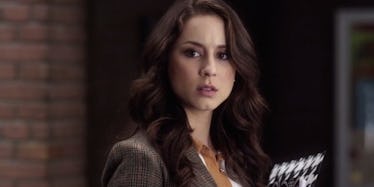 The 'PLL' Twitter Just Slut-Shamed Spencer And Troian Bellisario Is Not Happy
Freeform
Uhhh, who's running the "Pretty Little Liars" official Twitter account?
Freeform may want to check things out because someone just messed up big time.
On Tuesday night, the show's account live-tweeted the episode. If you aren't updated, I'll fill you in on what went down.
Last week, Spencer cheated on Caleb with some dude she met at a bar, but then she found out he's actually a cop. UM, OOPS?
According to Perez Hilton, The "Pretty Little Liars" Twitter page decided to shame Spencer for her decision by tweeting:
Maybe you shouldn't make out with strangers in elevators, Spencer. ????
Troian Bellisario, the actress who plays Spencer, was not happy how the show's OFFICIAL Twitter page decided to slut-shame her character.
The actress responded with the message,
@PLLTVSeries wow. I can't believe the amount of sass (read ) certain characters get from their own shows Twitter handles. bye Felicia — Troian (@SleepintheGardn) July 20, 2016
She also retweeted a fan who defended Troian and her character.
RT @Kaaaaatie_x: @PLLTVSeries , is there any wonder people slutshame Spencer when the show itself encourages it?? — Troian (@SleepintheGardn) July 20, 2016
Since Troian's response, it looks like the "Pretty Little Liars" Twitter page deleted the tweet.
SORRY, WE STILL CAUGHT YOU.
Perhaps next week someone new will be tweeting. Hopefully, they'll be a little more respectful toward the characters.
Citations: Pretty Little Liars Twitter Spencer (Perez Hilton)