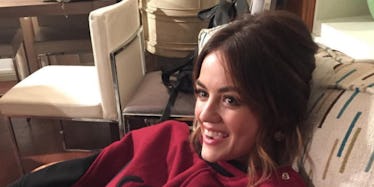 'PLL' Photo Reveals Spoiler About Aria And Ezra's Relationship In Last Season
Instagram
"Pretty Little Liars" is coming to an end after seven years of the girls being threatened by A, navigating high school and falling in and out of love.
And no couple had more staying power than Aria (Lucy Hale) and Ezra (Ian Harding), despite it being super inappropriate that she was dating her English teacher.
Certainly those two would be going to the chapel and going to get married after all they've been through?
But alas -- PLOT TWIST! Ezra's ex girlfriend, who we thought was dead, entered the picture.
Now, fans are left wondering if Aria and Ezra are actually going to end up together.
Ezria fans, it's OK. Take a breath.
We're sure they'll have a happy ending, especially after Ian Harding posted THIS PHOTO.
He posted the photo on Friday, their last day of filming together, but let's analyze this mofo, "PLL" fans.
Hmm, it looks innocent enough, right?
WRONGO.
Lucy Hale is sporting an up-do.
In my experience, people only wear up-dos when they're going to prom, appearing on a 1950s dancing television show or getting married.
It's very bridal of her.
COMPUTER, ENHANCE IMAGE.
Just WHAT is that little white tulle emerging from behind her head?
Could it be... a wedding veil?! Or, like, a dryer sheet or something?
I'M GOING TO GO WITH WEDDING VEIL.
And just why is she covered up with Harding's jacket? It has not been cold in LA.
It seems like they may be covering up her wedding gown! If you look at the bottom left of the image, it even looks like a bit of the white gown is peeking out of the jacket.
Harding lovingly wrote along with the picture,
This one has made every day of work a total joy. Thank you for putting up with my dumb songs and my affinity for not shutting up. You're a gem miss Hale. I'll miss you tremendously. Much love and Happy wrap.
Please let this be real.
Citations: This Pretty Little Liars Photo All but Confirms Aria and Ezra Get Married in Season 7B (Glamour)