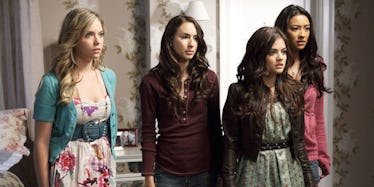 'Pretty Little Liars' Finally Reveals Identity Of 'A' And Fans Lose It
Warner Bros. Television
With 130 episodes of "Pretty Little Liars" aired to date, and at roughly 42 minutes an episode, fans have devoted a grand total of 91 hours to their favorite teen drama.
Last night, creator I. Marlene King finally made every hour worth it.
Or did she?
BEWARE, BITCHES, SPOILERS BELOW!!! KISSES. - A
Fans who devoted six seasons of time and loyalty to the series know "A" is Charles DiLaurentis, and Tuesday night's episode revealed the true identity of Charles is (DUN, DUN, DUNNN) CeCe Drake!
QUICK RECAP, LOSERS. I KNOW *EVERYTHING*. - A
CeCe begins her life as Charles, brother to Alison and Jason, but identifies as a girl and is drawn to feminine attire.
Bethany Young frames Charles for the murder of Toby's mother and gets away with it, because, as CeCe later explains, "No one believed the boy wearing the dress."
In an effort to get Bethany, Charles hits Ali over the head with a rock by accident.
Flash forward: Charles transitions into Charlotte and, under the guise of CeCe Drake, dates her brother Jason and becomes friends with Ali because even though they are all flesh and blood, no one recognizes their former male sibling as a woman -- even at extremely close range it seems.
THAT'S A LOT TO SWALLOW, HUH, LADIES? - A
If that was not enough exposition, the Black Widow and third Red Coat (because even the brilliant Charles DiLaurentis/Charlotte DiLaurentis/CeCe Drake needs a little help sometimes) were revealed to be Sara Harvey.
DEAL WITH IT, EMILY. - A
Responses from fans online have been mixed, to say the least.
There was a lot of anger...
Please let @imarleneking know how ridiculous this episode was and how this RUINED the entire effing show! #CeCeIsA #NOTHAPPY — kellie (@kellie_tv) August 12, 2015
Some humor...
...and a little relief.
The rest of the season will air this winter and, with any luck, it'll provide fans some semblance of chill.
BUT PROBABLY NOT, LOL. - A
Citations: Wait, What?! The Best Reactions to the Pretty Little Liars Charles Reveal (PEOPLE)