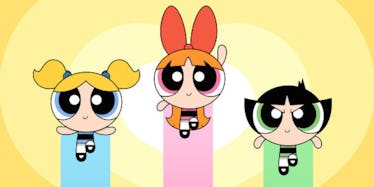 The 'Powerpuff Girls' Are Coming Back To TV With A Brand New Cast
Cartoon Network
90s babies, buckle up: The Powerpuff Girls are back.
Earlier this year, Cartoon Network revealed it would be bringing back Bubbles, Blossom and Buttercup for a series reboot.
Yesterday, the channel announced the final cast for the series, which is set to debut on the Cartoon Network next year.
The beloved girl power show will be produced by "Adventure Time" producer Nick Jennings and "Wow! Wow! Wubbzy!" producer Bob Boyle.
While Tom Kenny will return to voice the mayor (and the narrator), a new cast will voice the wide-eyed super-heroines: Natalie Palamides is set to voice Buttercup, Kristen Li will voice Bubbles and "The Fosters" actress Amanda Leighton will be voicing Blossom.
After officially debuting in 1998, the original series ran for six years.
Girls, gear up for justice!
Citations: Heres Your First Look At The Powerpuff Girls Reboot And New Cast (Huffington Post)