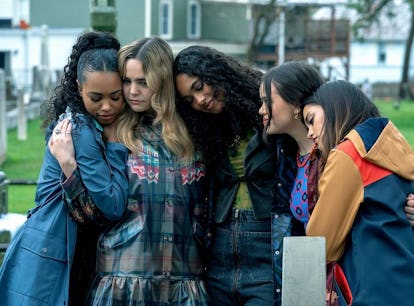 PLL: Original Sin Season 2 Is Blessedly Happening
"There's a sequel in the offing!"
Karolina Wojtasik/HBO Max
Pretty Little Liars: Original Sin Season 1 came to a dramatic close when the final three episodes were released on Aug. 18, 2022. But fans immediately wanted more. Sure, A's identity was revealed, and many questions were answered, but even more threads were left dangling in the last 10 minutes of the final episode. If you're impatient for an Original Sin Season 2, here's everything you need to know so far.
Warning: Spoilers for Pretty Little Liars: Original Sin Season 1 follow. Original Sin's finale brought many storylines to a close, to open them up again, in true PLL fashion. A's identity was revealed with Angela's twin brother, Archie, as the muscle and their father/the high school principal, Clanton, as the brains behind it all. Further, Sheriff Beasley, who was discovered to be Angela's attacker, survived being stabbed by his wife, and Tabby and Imogen's attacker, Chip, was arrested. But just as quickly as the Liars could make all this progress, it all fell apart — Chip came home on bail, Archie broke free from his hospital bed, attacked Beasley, and in the last moments of the season, he showed up to attack Chip.
All of these cliffhangers, including that OG PLL stars Ezra and Aria are adopting Imogen's baby, have fans wanting a Season 2 — and thankfully, HBO Max has listened.
Here's what else you need to know about Pretty Little Liars Season 2:
Pretty Little Liars: Original Sin Season 2 Renewal
On Sept. 7, 2022, HBO Max confirmed Pretty Little Liars: Original Sin Season 2 was officially renewed.
In a statement to Deadline, series creators Robert Aguirre-Sacasa and Lindsay Calhoon-Bring said, "We are beyond excited to continue telling stories with our amazing group of little liars—exploring their friendships, their romances, their secrets, and their status as scream queens supreme! Eternal thanks to the fans who have embraced this new horror version of Pretty Little Liars — which we'll be continuing, of course — and our partners at HBO Max, Warner Bros. Television, and Alloy Entertainment. As Tabby would say, 'There's a sequel in the offing!'"
Pretty Little Liars: Original Sin Season 2 Cast
Though the announcement did not confirm who will return for the second season, it would make sense for the cast to remain essentially unchanged — although, with that brutal cliffhanger, fans might be seeing way less of Carson Rowland, who played Chip.
However, Imogen Adams (Bailee Madison), Tabby Haworthe (Chandler Kinney), Faran Bryant (Zaria), Minnie Mouse (Malia Pyles), Noa Olivar (Maia Reficco), and Karen and Kelly Beasley (Mallory Bechtel) will probably continue to make up the key cast.
Their parents, Sidney Haworthe (Sharon Leal), Marjorie Olivar (Elena Goode), Tom Beasley (Eric Johnson), and Elodie Honrada (Lea Salonga), would mostly return as well. Also, Shawn Noble (Alex Aiono) will probably return as Noa's boyfriend.
That ~other~ all-important cliffhanger about a potential Ezria adoption could also bring in members of the OG cast like Ian Harding and Lucy Hale. They played Ezra and Aria in the original series.
Pretty Little Liars Season 2 Plot
There's no official word on the plot for Season 2. But co-creator Calhoon Bring told Collider, "We do have ideas for moving forward, and we have some pretty fun and exciting story ideas and places for the characters to go after this." Viewers can rest assured the creators are working to explore some of these Season 1 loose ends.
Pretty Little Liars: Original Sin Season 2 Trailer & Release Date Predictions
There is no official release date for Pretty Little Liars: Original Sin. But the original Pretty Little Liars series put out a season every year for several years in a row, and HBO Max has been pretty good at sticking to a yearly release schedule for other series, so it's a good bet PLL: Original Sin Season 2 will be out in mid-2023.
This article was originally published on