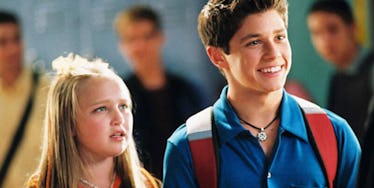 Here's What Pim Diffy From 'Phil Of The Future' Looks Like Today
Disney–ABC Domestic Television
Watching Disney Channel was probably the greatest part of my childhood.
I honestly feel bad for today's youth because they don't get to watch the shows that made me into the woman I am today.
I'm talkin' "That's So Raven," "Lizzie McGuire" and "Even Stevens." I'm talkin' "Hannah Montana," "Kim Possible" and "The Proud Family."
I'M TALKIN' "PHIL OF THE FUTURE." YEAH. That show was the sh*t.
Reminisce with me for a sec. Do you remember the Diffy family?!
They were from the year 2121 but rented some crappy time machine and got stuck in the year 2004. Oops, how silly!
There was Phil, his BFF Keely and his little sister Pim. The Diffy kids basically pretended to be normal, but that was kind of hard because, you know, they were from the future and stuff.
I honestly forgot about this show and how much I loved it. I had the biggest crush on Phil. You know he was cute. And even though Pim was a monster child, she made me laugh, so I wanted to be her friend.
Come on, she was hysterical... and slightly weird, but whatever. I was into it.
Hmm. I wonder what Pim is doing today. It's not 2121 yet, but it is 2016, so I'm sure a lot has changed over the years.
Well, guys, I found your girl. Say hello to grown-up Pim!
The actress who played Pim is named Amy Bruckner and she's got some serious style.
She's 24 years old now, which is crazy. It feels like just yesterday she was little ol' Pim.
It looks like she's still the same goofball she always was.
https://instagram.com/p/4QL3ASJ1lb/embed/
And, look! There's Phil! It's a family reunion.
Pim, thanks for making my childhood so wonderful. Keep jamming out, girlfriend.