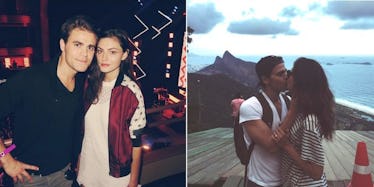 These Two Stars Of 'The Vampire Diaries' Define All Relationship Goals
Every now and then, a relationship floats into public consciousness and stops those who witness it dead in their tracks with the thick, green gelatin of envy (yes, envy is a semi-rigid liquid, deal with it).
Watching "The Vampire Diaries" stars Phoebe Tonkin and Paul Wesley love each other is like wading through an Olympic-sized swimming pool of envy Jell-O.
Rather than fight it and sink deeper into despair, I decided to stalk their Instas, imagine their lovely conversations and embrace it in all its glory.
THEY GO TO THE BEACH.
Paul: "Oh Pheebs, I am so glad you talked me into a beach day. I never take enough 'me' time." Phoebe: "I also brought a cooler of margs…" Paul: "YOU ARE MY DREAM WOMAN."
THEY HANG WITH FRIENDS.
Paul: "Why do you keep staring at Kyle?" Phoebe: "All right, hear me out, I want to set him up with Jake so we can take couples' vacations." Paul: "That is SO brilliant. You are the Neil deGrasse Tyson of matchmaking."
THEY GO TO COMIC-CON.
Phoebe: "Would it be dumb if I bought this cape?" Paul: "No, it would be dumb if you DIDN'T buy that cape because it looks AMAZING on you." Phoebe: "Thank you for supporting my personal style, you hunk of sweet, delicious man!"
THEY CELEBRATE BIRTHDAYS.
Paul: "You shouldn't have gotten me anything. You are honestly the best gift a man could ever ask for." Phoebe: "OK, well then I guess someone else will have to enjoy this COOLER OF MARGS!!!" Paul: "AGAIN??? I do NOT deserve you!"
THEY PARTY IN NYC.
Phoebe: "Not to be a buzzkill, but I'm really not trying to stay out super late tonight." Paul: "Not a problem, bae. Let's go back to the hotel and watch 'Hocus Pocus'." Phoebe: "OMG yes! I brought my cape!"
THEY GIVE MASSAGES.
Phoebe: "You have some crazy knots, Paolito." Paul: "Yeah, I know. I love camping, but the hiking and the tent-pitching ruin my shoulders." Phoebe: "Maybe you should unwind with… oh… what's this? A COOLER OF MARGS!!!"
THEY TAKE IT EASY.
Paul: "I honestly do not need to move from this couch all day if you'll stay with me." Phoebe: "Where would I go? Knowing you're here on this couch makes it the only place I ever want to be." Paul: "Oh, Pheebs, you are a pristine flower in a field of veritable dog turds."
At the risk of exaggerating, their relationship will sustain my romantic fantasies and aspirations for eternity.