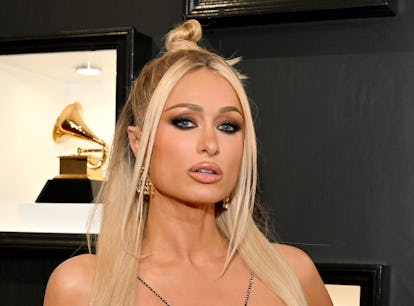 Paris Hilton Was "Terrified" Of Sex Before Meeting Carter Reum
"A lot of my relationships didn't work out because of that."
Lester Cohen/Getty Images Entertainment/Getty Images
Paris Hilton got extra honest in a Feb. 16 Harper's Bazaar interview. During the conversation, Hilton opened up about being "terrified" of sex for years until she met her now-husband Carter Reum, whom she married in November 2021.
The star explained how her 2004 sex tape (which was released without her consent) and being groomed by a male teacher in middle school affected the way she viewed sex. "I was known as a sex symbol, but anything sexual terrified me," she told Harper's Bazaar. "I called myself the 'kissing bandit' because I only liked to make out. A lot of my relationships didn't work out because of that."
It wasn't until she met Reum in November 2019 that things changed. "It wasn't until Carter that I finally am not that way. I enjoy hooking up with my husband," Hilton said. She credited her 2020 documentary, This Is Paris, with helping her process her past to be ready to start a life and family with Reum. Per Hilton, it "changed my entire life." Before the film, "I never would've let those walls down."
Hilton explained that she met Reum on Thanksgiving in 2019, and he wasn't who she usually went for. "He's not famous. He's smart. He comes from a nice family. He's a good person," she said. "It was the opposite of what I had been used to when I was looking for guys."
She added, "I just feel like after all the hell I've been through, I'm finally getting what I deserve, which is someone I can trust and someone to build a real life with."
In November 2021, in honor of their wedding, Hilton spoke about Reum to Vogue. "Throughout the years, I was always searching for my partner. Not only someone to share my dreams with but a man to build a future together. Someone who is loving and kind. Someone to be a father to my future children."
On Jan. 24, Hilton announced she and Reum had welcomed their first son on Instagram. "You are already loved beyond words," she wrote in the caption.