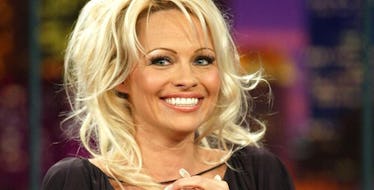 Pam Anderson To Grace The Cover Of Playboy's Last Nude Issue
Getty Images
In October, Playboy announced it will no longer publish fully nude photos of women in the pages of its magazine.
In an interview with The New York Times announcing the magazine's new direction, Scott Flanders, Playboy's chief executive, said the magazine came to the decision with its 89-year-old founder Hugh Hefner, because the Internet has made nudity "passé."
Flanders says,
That battle has been fought and won. You're now one click away from every sex act imaginable for free. And so it's just passé at this juncture.
But the magazine isn't leaving nudes behind without one last hurrah.
On Thursday, Playboy announced its very last nude cover girl will be none other than 14-time cover girl Pamela Anderson.
Of her last nude cover, Anderson tells Entertainment Tonight,
I got a call from [Hugh Hefner's] attorney who said, 'We don't want anybody else. There's nobody else, could you do the last cover of Playboy?
Anderson added it was her 19-year-old son who convinced her to do the shoot.
Of Playboy's ultimate nude demise, Anderson says she agrees with the decision, saying,
It's hard to compete with the Internet. And the girl next door doesn't exist anymore. She's taking selfies down her shirt. There's no mystery over there anymore. It doesn't have that same charm and innocence that it used to.
Pick up Playboy and Pam on newsstands December 11.
Citations: Pamela Anderson Bares It All For Playboy's Final Nude Issue (The Huffington Post)