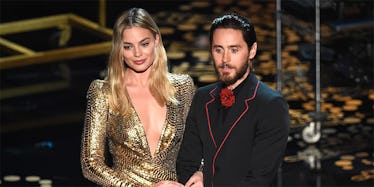 5 Hot Oscars Presenters We Wish Were Couples In Real Life
Getty Images
Every year, the Oscars gives us a glimpse inside the detailed and intricate world of cinematography, allowing us viewers to imagine what it is like to be a part of such creative brilliance.
This year, the Oscars is ALSO giving us celebrity presenters we can totally imagine getting nasty together in well-lit, HD brilliance.
It's truly a wonderful evening.
These beautiful people may not actually be dating IRL, but I think it's safe to say the Oscars is sending some middle school-level "you guys would be sooooooooo cute together" vibes tonight.
These are the five hottest celebrity pairs we all wish really existed.
Margot Robbie and Jared Leto
I mean, she already looks like an Oscar... it's got "role play" written all over it.
And the Oscar goes to the people of Gotham. #Oscars pic.twitter.com/UiCrhNhIL8 — Frank Pallotta (@frankpallotta) February 29, 2016
Tina Fey and Steve Carell
Imagine the LOLs in that bedroom.
Come back to TV. Please. We're begging you. #Oscars pic.twitter.com/gof263Nlb6 — TVLine.com (@TVLine) February 29, 2016
Rachel McAdams and Michael B. Jordan
Put the "Spotlight" on them ASAP.
#Oscars | Rachel McAdams & Michael B. Jordan • She was nominated, he wasn't pic.twitter.com/XdEmtjiWtE — Patrice Férus™ (@patferus) February 29, 2016
Kerry Washington and Henry Cavill
OoOoOo SCANDALous.
Put these two on top of a wedding cake. Wow. #Oscars pic.twitter.com/LKjpUPZOzn — Entertainment Weekly (@EW) February 29, 2016
Chadwick Boseman and Chris Evans
IS IT HOT IN HERE OR IS IT HOT IN HERE?!
It's #BlackPanther and #TeamCap themselves, Chadwick Boseman and @ChrisEvans. #Oscars pic.twitter.com/vrVBC7XdCf — Good Morning America (@GMA) February 29, 2016