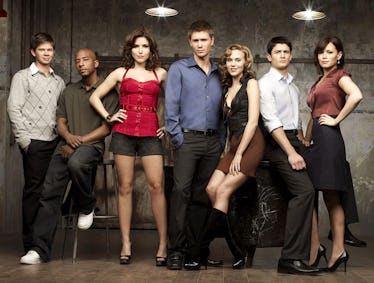 11 Secrets About One Tree Hill Even The Biggest Fans Wouldn't Know
The CW
One Tree Hill has been off the air for a decade, but thanks to Hulu, a whole new generation of fans has come to appreciate the iconic teen (turned 20-something) drama, and the show's momentum isn't slowing down any time soon. If you're a huge fan, you probably know plenty about The WB/CW series, but there are still a few secrets about One Tree Hill that even the biggest fans wouldn't know.
When One Tree Hill premiered in 2003, it instantly became must-see TV. What began as a show about a basketball-inspired sibling rivalry quickly became much more as the series dove deeper into students' lives at Tree Hill High School. Over the course of nine years, the show changed quite a bit. By the time they were in their 20s, the core characters were dealing with parenthood, career drama, and married life.
Despite these changes, One Tree Hill stayed true to its characters. As a result, fans stuck with the series through its ups and downs. But while the series was famous for its onscreen drama, many fans don't know there was plenty going on offscreen. These secrets about One Tree Hill will make you rethink the series — and inspire you to head over to Hulu for another marathon.
All episodes of One Tree Hill are streaming on Hulu.
This article was originally published on