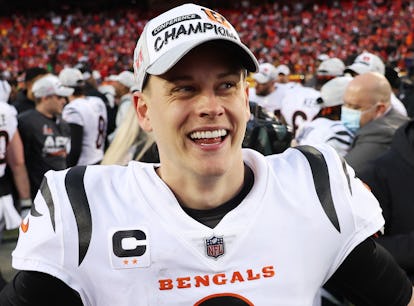 Joe Burrow's GF Shared The Ultimate Support With An Amazing Customized Koozie
That koozie is everything.
Jamie Squire/Getty Images Sport/Getty Images
Olivia Holzmacher shared her pride for her long-term boyfriend and Cincinnati Bengals quarterback, Joe Burrow, for making it to the 2022 Super Bowl in a big way. On Feb. 13, Burrow and the Cincinnati Bengals faced off against the Los Angeles Rams at SoFi Stadium in Inglewood, California. Ahead of the game, Holzmacher posted a series of photos to her IG story supporting Burrow, and they included a customized koozie of the athlete's face.
Through the years, Holzmacher has often shared photos at Burrow's games, cheering him on from the crowd. The Super Bowl was no different. Just a few hours before the big game kicked off, Holzmacher posted a photo of herself holding a drink outside SoFi Stadium that featured an orange koozie to show her support for the Cincinnati Bengals, whose official team colors are black and orange. That's not all, though: The koozie was customized to have Burrow's face on it.
In a follow-up IG story, Holzmacher re-posted a photo from the official Cincinnati Bengals IG account that showed her boyfriend looking handsome while practicing some throws on the field. Later on, Holzmacher also shared a video of her inside the stadium with Codie Burrow, her boyfriend's sister-in-law.
Holzmacher also snapped a picture of her wearing orange boots and black leggings, which seemed to be another nod to the Cincinnati Bengals colors. "Rip my feet," she captioned the image.
Her final post before the game was a video of the Cincinnati Bengals warming up inside the stadium. "Good luck 9," she wrote, referencing her boyfriend's jersey number.
Holzmacher has been Burrow's No. 1 fan for quite some time now. The couple reportedly met in 2017 while they were both attending Ohio State University. Burrow left OSU in 2018 to play for Louisiana State University. At LSU, he won the prestigious Heisman Trophy and led his team to win the 2020 College Football National Championship. Holzmacher graduated from OSU in 2019 and then began working as an analyst for Kroger, according to Glamour. Love this journey for them.