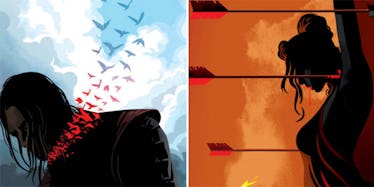 Relive All 59 'Game Of Thrones' Episodes Through HBO's Badass Posters
HBO
In light of the "Game of Thrones" season six finale, playing Sunday at 9 pm Eastern Time on HBO, one Imgur user decided to collect up every official "Game of Thrones" poster from every single episode.
In case you were not aware, HBO produces a full-size poster for every episode, and the posters are seriously awesome. Created by the talented Robert Ball for HBO, not only are the posters super cool, beautiful, graphic and/or violent, they also showcase one of the main plot elements of each episode and feature a quote from the episode.
So looking at the posters is like a crash course in the plot of "Game of Thrones."
Given that, take a journey into "Game of Thrones" seasons past and check out all 59 of HBO's official "GoT" posters below.
Each poster is listed with the the title of the episode it reflects. I can't even imagine what HBO's 60th poster will be after tonight's season finale titled "The Winds of Winter."
"Winter Is Coming"
"The Kingsroad"
"Lord Snow"
"Cripples, Bastards, and Broken Things"
"The Wolf and the Lion"
"A Golden Crown"
"You Win or You Die"
"The Pointy End"
"Baelor"
"Fire and Blood"
"The North Remembers"
"The Night Lands"
"What Is Dead May Never Die"
"Garden of Bones"
"The Ghost of Harrenhal"
"The Old Gods and the New"
"A Man Without Honor"
"The Prince of Winterfell"
"Blackwater"
"Valar Morghulis"
"Valar Dohaeris"
"Dark Wings, Dark Words"
"Walk of Punishment"
"And Now His Watch Is Ended"
"Kissed by Fire"
"The Climb"
"The Bear and the Maiden Fair"
"Second Sons"
"The Rains of Castamere"
"Mhysa"
"Two Swords"
"The Lion and the Rose"
"Breaker of Chains"
"Oathkeeper"
"First of His Name"
"The Laws of Gods and Men"
"Mockingbird"
"The Mountain and the Viper"
"The Watchers on the Wall"
"The Children"
"The Wars to Come"
"The House of Black and White"
"High Sparrow"
"Sons of the Harpy"
"Kill the Boy"
"Unbowed, Unbent, Unbroken"
"The Gift"
"Hardhome"
"The Dance of Dragons"
"Mother's Mercy"
"The Red Woman"
"Home"
"Oathbreaker"
"Book of the Stranger"
"The Door"
"Blood of My Blood"
"The Broken Man"
"No One"
"Battle of the Bastards"
So, which poster is your favorite? Let us know in the comments and to see more amazing art like these posters, head over to Robert Ball's site to check out more of his work.