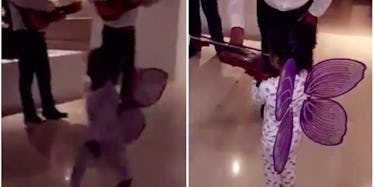 North West Joins Band For Adorable Dance In Fairy Wings And PJs
Snapchat
North West, whale pajamas, fairy wings, mariachi band: a powerful combination.
Love or hate the Kardashian clan, I challenge you to watch this Snapchat post by Kim Kardashian and not find it the slightest bit cute.
It's definitely "awww" worthy.
The little one was filmed in her awesome pajamas dancing to La Bamba at Casa Aramara in Mexico (that's a swanky private estate they rented out and is definitely worth a look so here's the link because, be honest with yourself, you're really nosey).
Come on, cute right? Your heart would have to be made of ice not to like that video just a little.
No? Not even this Snap of North learning to play the violin?
Look at her going ham! I remember when I had that much energy. *Stares vacantly out of window*
How about this one where she's having the most adorable dance-off with her aunty? That's super cute.
Really? You still feel nothing? PAH. Be gone, you ICE MAIDEN.
Citations: Daily Mail