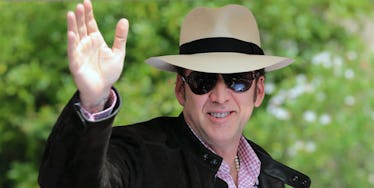 Nicolas Cage Stops Filming To Help Ohio Man Find His Missing Daughter
Getty Images
On Wednesday, Nicolas Cage stopped filming his upcoming movie, "Dog Eat Dog," a Paul Schrader film set for release in 2016, to help a local man in need.
The man, Britt Ramsey of Ohio, snuck onto the film's set just outside of Cleveland to ask Cage for his help in finding his missing stepdaughter, 15-year-old Alexis Boroviak.
According to TMZ, Boroviak disappeared just under two weeks ago, and her stepfather thought a photo of Cage holding her "missing" poster would draw attention to her case.
Very cool got to meet Nicholas today promoting where Alexis? Posted by Angel Arroyo Jr. on Wednesday, November 18, 2015
The man allegedly snuck onto the set, undeterred by the risk, as he knew the celebrity's support would only help in finding Boroviak.
Ramsey tells TMZ Nicolas Cage was warm and willing to do whatever he could to help.
Anyone with information on the missing girl should call the Brooklyn, Ohio Police Department at (216) 749-1234.
Citations: Nicolas Cage: Photo Plea for Missing Girl (TMZ), Actor Nicolas Cage poses for photo with flier of missing Brooklyn girl (Fox 8 Cleveland)