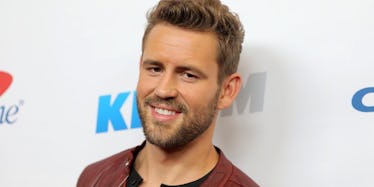 Nick Viall's Zodiac Chart Can Reveal A Lot About This Season Of 'The Bachelor'
REX/Shutterstock
If you saw this week's episode of "The Bachelor," you're probably still recovering.
Maybe, like me, you're even letting out intermittent sighs on your morning commute and going though periods of withdrawal as you count down the hours until the next episode.
Monday's installment was a direct assault on my feelings not only because it eliminated Dolphin Girl (with whom I am DYING to be best friends, btw), but also because the second she left, everything devolved into an oversaturated sobfest.
Coincidence? I THINK NOT.
Having been the runner-up on two seasons of "The Bachelorette" (with Andi Dorfman and Kaitlyn Bristowe) and ending "Bachelor in Paradise" without an engagement, Nick Viall has a long record of looking for love on reality TV, and an equally long record of blowing it.
Now that he's the Bachelor, the ball is finally in his court.
But after last week's episode, we can't be sure he won't blow this chance, too.
Looking at his astrological birth chart will leave you equally as skeptical.
According to the zodiac site Astrochicks,
Born under the Zodiac Sign of charming Libra, Bachelor Nick Viall oozes confidence and sex appeal. A ladies man, his Moon in Gemini makes him flirty and fun. A smooth talker, who likes to stretch the truth.
Stretching the truth certainly isn't out of his wheelhouse.
In fact, he was quick to get rid of Liz after she revealed to the other women they had previously slept together at Jade Roper and Tanner Tolbert's "Bachelor In Paradise" wedding.
But what can the stars tell us about Nick's future on the season?
If you're really into "Bachelor" predictions, you've probably already checked out Reality Steve's final four forecast and read which woman gets the final rose (Corrine Olympios, Rachel Lindsay, Raven Gates and Vanessa Grimaldi, with Vanessa taking home the ring).
But, that doesn't mean Nick won't have a few bumps along the way.
The Astrochicks noted,
From a soul perspective, we believe that he's ready for love and marriage [...] Our astrology prediction is Bachelor Nick Viall will make it down the wedding aisle ONLY if he can overcome his insecurities when it comes to true love. If not, he may find himself heartbroken once again.
We already know Nick has a tendency to intellectualize his emotions, but having your Moon and Sun in two air signs will do that.
Let's just hope Nick doesn't let it get in the way of his quest for matrimony at the end of the show.
Citations: BACHELOR Nick Viall Spoilers: Final Four Drama and Astrology Love Predictions (Astrochicks)