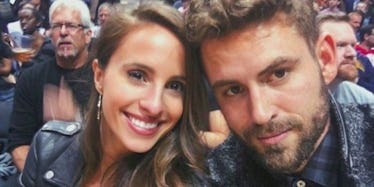 Twitter Is Not At All Shocked About Nick Viall & Vanessa's Breakup
Instagram
Sorry, Bachelor Nation, but looks like Nick Viall and Vanessa have broken up. The couple told E! News in a joint statement: "It's with a great amount of heartbreak for the both us as we have decided to end our engagement. We gave this relationship our all and we are saddened that we did not get the fairytale ending we hoped for..." And these tweets about Nick Viall and Vanessa breaking up prove that Twitter is not at all surprised.
The couple goes on to say that they will "continue to be there for each other no matter what," claiming this wasn't an "easy decision," but that they are parting ways with "lots of love and admiration for each other." It's a very warm sentiment coming from a couple that, honestly, nobody was super sure would make it anyway.
Nick Viall proposed to Vanessa Grimaldi on Season 21 of The Bachelor. Throughout the season, it was evident that the two were very compatible and had a special connection that Nick didn't have with the other women on the show. However, they would often muse about how their similarities could have possibly led to their demise. Obviously we don't know all the details, but it looks like that could have really been the case.
People on Twitter are less than shocked by this whole thing.
Only a handful of couples who get engaged on The Bachelor or The Bachelorette make it anyway, so these two really shouldn't feel too bad about calling it quits. At least they gave it an earnest shot, and now they can join the rest of their fellow Bachelor/Bachelorette contestants in various Fit Tea and DIFF eyewear endorsements until we all get pissed at them for clogging up our Instagram newsfeeds.
Btw, Nick? I've been low-key in love with you since I saw you on Andi Dorfman's season. CALL ME.