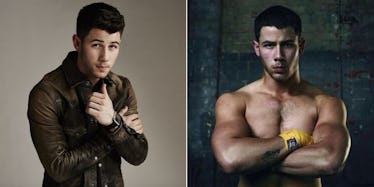 24 Times Nick Jonas' Body Reminded You What's Important In Life (Photos)
Instagram
Guys, we need to talk about Nick Jonas.
I'm not sure if you're aware of this but at some point, life comes to an end.  Our time on earth is limited -- which means, so is our time with Nick Jonas.
I'm just trying to be honest with you here. We all need to take this moment to prioritize what really matters.
Spend time with your loved ones, appreciate the nature around you and pray to the shrine of Nick Jonas' abs every night in your bathroom. It's that simple.
Before it's too late, I think we need to be reminded of what's most important in life.
To help make this easier for you, I've taken it upon myself to collect 24 of Nick Jonas' sexiest moments.
I hope this brings you not only peace and comfort but reminds you life is short, so you should probably spend it staring at Nick's package.
Let's get right to it.
1. Here he is, our lord and savior, dropping his drawers and man-handling his package.
2. Let's talk about when he pulled up his shirt like this and you could pretty much feel his six pack.
3. Or how about when he blessed us with the back view as well. Take a look. Really soak it in.
4. There was that time he stared deep into your eyes, made this pose and nothing in the world ever felt so right.
5. Except maybe this. This is intimate AF. Look at his nips.
6. There was that time he made this motion and you actually stopped breathing.
7. And the time he made that motion but added this facial expression.
8. OK AND THE TIME HE MADE THAT MOTION BUT YOU GOT TO SEE IT FROM THE SIDE.
9. I don't even have words for this one, his body speaks for itself.
10. Take a moment and think about everything you would give just to touch those arms.
11. THINK ABOUT THOSE GODDAMN ARMS.
12. And those lips. Yup, I think I just died.
13. Nope, I'm dying right now. Holy shit.
14. OK. NOW I'M DEAD. NOW I'M ACTUALLY DEAD.
15. But like an angel, he somehow brings me back to life.
16. F*ck.
17. Is it possible to look at this and not picture him running into your arms?
18. Can you really stare at this and not fall to the ground?
There are holes in his shirt. HOLES.
19. ARE YOU EVEN A HUMAN IF YOU CAN LOOK AT THIS SMILE AND NOT IMMEDIATELY LOSE CONSCIOUSNESS?
20. Seriously. These moments are the only things that matter.
21. I mean, he even has clothes on and I'm still drooling.
22. That girl can't handle how sexy he is. It's OK, not many of us can.
23. This GIF is a cinematic masterpiece. It's an actual work of art.
24. And finally, here's Nick Jonas on top of someone. To make all your fantasies come true, just cut out her face, replace it with yours, and I promise your life will be changed.
You're welcome.