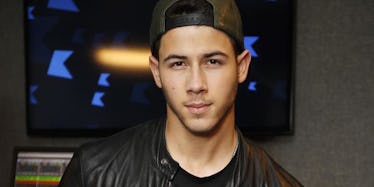 How Nick Jonas Is Shattering The Stigma Around Type 1 Diabetes
Getty Images
Nick Jonas has quite the list of accomplishments. Not only is he a talented singer, songwriter and actor, he's also the founder of a nonprofit.
Yup, you heard that right. Founded almost one year ago, Jonas co-launched Beyond Type 1, an organization devoted to providing education and awareness for Type 1 diabetes.
The goal is simple: "to highlight the brilliance of those fighting this disease every day while always working toward ensuring a cure is on its way."
Jonas was diagnosed with Type 1 diabetes back in 2005, and now he's working with Beyond Type 1 co-founders Sarah Lucas, Juliet de Baubigny and Chef Sam Talbot to change the dialogue around the disease and help eradicate the stigma that comes from living with it.
By using social media, sharing stories and creating lifestyle blogs on its website, Beyond Type 1 has created a supportive community for people of all ages with Type 1 diabetes.
Elite Daily was able to speak with CEO Sarah Lucas, Nick Jonas and his co-founders about Beyond Type 1 and their own personal connections to the disease.
CEO Sarah Lucas first shared with us the importance of distinguishing between Type 1 and Type 2 diabetes. She told Elite Daily,
Type 1 is an autoimmune disease that can affect anyone at any time. It is not a lifestyle disease, it is not a kids' disease, it is an invisible disease that demands constant attention 24/7 and life-long dependence on insulin, and currently there is no cure.
She explained the importance in learning the difference between Type 1, Type 2 and other forms of diabetes because oftentimes there is confusion, and no disease should be the punchline of any joke.
When asked about her hopes for Beyond Type 1, Lucas explained,
We want to be the authentic guide for living beyond a diagnosis, with the real stories (like how to have a cocktail, go skydiving, how to manage your blood sugars during sex) and practices that people need every day until a cure.
Additionally, Nick Jonas opened up about his fight with diabetes and his experience with the disease as a public figure. When asked about what it was like to share his story with his fans, Nick told us,
I feared sharing the story at first but knew that I would actually feel a lot of support and that it was important that I be transparent about it. I think anytime you open yourself up and you just get more real about things that affect your life, it helps you to connect more with your fans and really gives you something to be passionate about.
He added,
You know, life is all about doing all you can to help other people and for me, that's been the main goal.
Nick also discussed the difficulty in learning how to deal with the complications of diabetes and doing his best not to get stressed about the intensity of the situation.
He shared that each day comes with its own sets of challenges and that at the end of the day, all you can do is be at peace with what you have.
In terms of his involvement with Beyond Type 1, Jonas told us,
With Beyond Type 1, I've been able to raise my voice in a safe environment and share my story with people and hopefully help them in any way that I can. I get a lot from that myself -- a lot of support and a lot of freedom to just live my life and know that I'm surrounded by people in a community online and personally who really do support me.
He believes it's important to speak to Millennials about diabetes so younger generations aren't ashamed to talk about it or feel embarrassed of their diagnoses. The most important thing, he explained, is putting your trust in doctors, family and the people who are there to support you.
In addition, Beyond Type 1's Instagram campaign, Living Beyond, focuses on sharing real-life stories from Millennials, children and adults with Type 1.
Not only is its social media an excellent resource for adolescents, but the website's lifestyle guides are packed with information, tackling everything from mental health to food, school and travel.
To all Millennials with a Type-1 diagnosis, the founders have a message. Nick said,
Stay as strong as possible and know that each day is going to come with its own challenges. As long as you can be at peace with that and not get stressed, you'll be OK and you can do anything you want to do. It's just a minor setback but nothing that has to limit you.
Co-founder Chef Sam Talbot added his own thoughts, as well. He told Elite Daily,
I would [tell young people] don't ever lose hope, no matter what. You can do this. If you need some help, look us up at Beyond. We will help you over the finish line.
Be sure to check out the resources at Beyond Type 1. Together let's educate, advocate and cure.