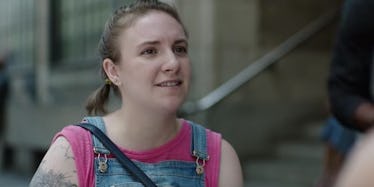 The New Trailer For The Final 'Girls' Season Makes The End Feel Too Real
YouTube
February 12 will be an emotional day for "Girls" fans because it's the premiere date of the final season.
Hannah Horvath, Marnie Michaels, Jessa Johansson and Shoshanna Shapiro will be with us one last time before we have to say goodbye to their lives forever.
I'M ALREADY CRYING LIKE A LITTLE HELPLESS BABY.
It feels like yesterday I got to watch Hannah do coke on the toilet seat of a bathroom and Marnie get her ass eaten out by Desi.
But now, we're on the final chapter of their stories.
On Sunday, January 8, the trailer for the sixth season dropped and it'll make you sob.
According to the two-minute preview, all of your favorite ladies are still living their shitty lives, struggling to keep it together.
My girls! I've missed you all so much.
It looks like Hannah is writing again and possibly working for a magazine run by Chelsea Peretti.
Marnie and Ray are still hooking up even though she's thinking about trying anal with Desi.
Oh good, more butt stuff!
Jessa is still dating Adam even though all her friends hate her for it.
Shoshanna is still trying to figure out her life even though it's been three seasons since she's even come close to having her shit together.
And Elijah is, well, still being Elijah.
There's also a classic Hannah dance scene, so that'll obviously be epic.
Speaking of Hannah, here are my two favorite quotes from the trailer (both by her):
I don't give a shit about anything, yet I simultaneously have opinions about everything. I'm mentally ill, I'm overweight, I isolate people. Why can't someone just tell me exactly what to do in a way that makes it seem like it's my idea.
Brilliant.
Use these as your Instagram captions, ladies! Boys will eat you right up.
Well, February 12 can't come soon enough. Lena Dunham, I'm ready for you.
Citations: Girls Final Season (Cosmopolitan)