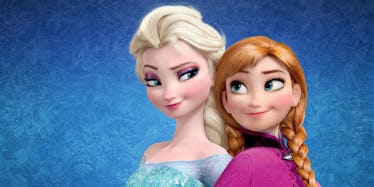 There's A New 'Frozen' Project In The Works, And Everyone's Freaking Out
Disney
If you thought your little sibling finally shut up about Elsa once and for all, think again: "Frozen" is coming to Broadway.
The live musical will arrive on Broadway in the spring of 2018, according to a report from The New York Times.
The play will be written by the original film's screenwriter, Jennifer Lee, and the score will be composed by Robert Lopez of "The Book of Mormon" fame and Kristen Anderson-Lopez.
No word on casting yet, but I can only assume if Idina Menzel isn't Elsa, there will be riots. Personally, my vote is for Lin-Manuel Miranda as Olaf. (Kidding, that would terrible.)
I encourage all of you to savor this next year before the show goes up because it will be the last time you won't hear "Let It Go" every damn place you go.
If you need proof, just look how Twitter reacted to this news. All of these people are 100 percent going to hum "Let It Go" under their breaths while you're trying to work.
RIP to those sweet months of relief. "The cold never bothered me, anyway."
Citations: 'Frozen' Musical Headed to Broadway (Rolling Stone), 'Frozen' Coming to Broadway in Spring 2018 (The New York Times)