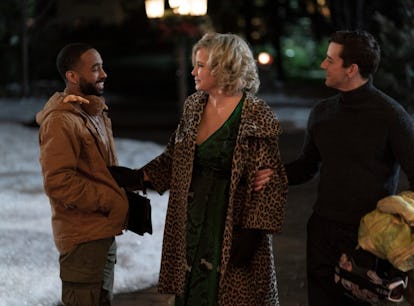 Here Are All The New Holiday Movies To Watch This Season
Consider this your jolly guide.
Netflix
The holidays are a time for celebration. However, it can sometimes feel hard to get that jolly feeling when the sun goes down at 4 p.m. Luckily, there is always the glow of the television to keep everyone warm and cozy, full of seasonal offerings themed for the end of year celebrations like Hanukkah and Christmas. But with a genuine slew of films from Hallmark and Lifetime, not to mention multiple streamers hitting the holidays hard, what are some of the best options? Here are all the most exciting new holiday movies for 2021 to check out.
As more streamers get into the holiday game in the 2020s, the best selections are starting to get a little harder to find. Not so long ago, one could simply put on Lifetime and have everything sorted. But the good part about having so many more options isn't just that there are more movies, but that the offerings are far more diverse. This year's list includes multiple LGBTQ+ films along with stories about families of color and even a Hanukkah movie.
So, warm up the hot cocoa, grab your favorite blanket, and get snuggled up on the couch. Let's run down 10 of the best choices to watch this holiday season and where to find them.