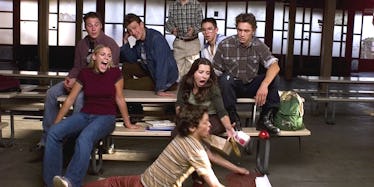 Netflix's Newest Show Sounds Like A '90s Version Of 'Freaks & Geeks' And We're Pumped
NBC
Like every sane TV viewer, I miss Freaks and Geeks.
Not only did the 1999 high school dramedy launch the career of just about every famous comedy actor and director working in Hollywood today, but it was also one of the most easily funny, touching, and relatable shows to ever air.
Thankfully, I'll soon be able to do something other than constantly rewatch the only season on Netflix, because the streaming service just picked up a new series that sounds exactly like Freaks and Geeks, except set in the '90s instead of the '80s.
Netflix has ordered a 10-episode season of a new dramedy called Everything Sucks!, according to Deadline. The new show will reportedly follow two groups that are often considered outsiders in high school: the A/V club and the drama club.
Sound familiar? Freaks and Geeks was also about two groups of "losers" trying to keep their heads above water in high school: the druggie "freaks" and the nerdy "geeks." But while the Paul Feig-Judd Apatow classic was set in 1980 Michigan; Everything Sucks! will take place in 1996 Oregon.
The new series comes from writers Ben York Jones and Michael Mohan, both known for penning dramatic comedies for the big screen.
Jones and Mohan both references Freaks and Geeks as one of their inspirations for the series in a statement to Deadline, along with other classic shows that looked back at a past decade:
Some of our favorite shows of all time — The Wonder Years, Happy Days, That 70s Show, Freaks and Geeks — looked back at bygone eras with 20 years of hindsight. We think this is a great time to take a look back at high school and relive the fashion, music, and attitudes of the mid-'90s the way we remember it. Not sensationalized, not watered down; but desperate, heartfelt, awkward, and exciting.
No word yet on when Everything Sucks! will premiere on Netflix, so just keep bingeing Freaks and Geeks until that announcement comes.