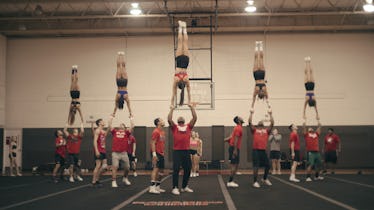 This 'Cheer' Glossary Will Help You Feel Like You're On The Navarro Squad
Just in case you're ever asked to "whip," go "full-out," or "hit zero."
Netflix
Netflix's Cheer gives audiences a peek into the world of competitive college cheerleading, but despite clearing up some major misconceptions about the sport, there are still a few things that could definitely use some explaining. The docuseries is full of terms and acronyms specific to the cheerleading world, which can be daunting for fans who are new to the sport. To help you out, here's a list of phrases from Netflix's Cheer, complete with definitions, so you won't have to pause your marathon of the show to look anything up.
Specifically, there are a lot of terms unique to the sport that explain what a cheerleader's role is on the team. While it may not be obvious, not all cheerleaders do (or are capable of doing) the same skills as everyone else. Each athlete typically has a specific role and set of skills they specialize in, which makes things even more competitive when the coaches decide who gets to perform at the NCA championships each year. On top of all that, there are also some key Navarro-specific phrases mixed into the show, which definitely call for some more explanation.
So, if you're new to the series or you just want some more context, check out this list of terms from Netflix's Cheer, which can serve as a starting point to help you better understand the Navarro squad, and the world of competitive cheerleading as a whole.
Cheer is streaming on Netflix.
This article was originally published on