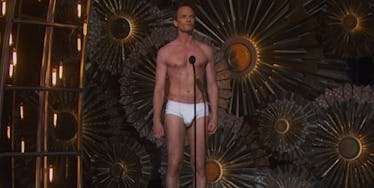 Neil Patrick Harris' Tighty-Whities Moment Deserves Its Own Oscar (Video)
In one of the funnier moments of tonight's Oscars, host Neil Patrick Harris made his way on stage in nothing but his tighty-whities.
NPH was acting out a skit which poked fun at a memorable scene from Alejandro Iñárritu's "Birdman."
Each scene was shot in one unbroken long take.
There was also a fun wink to "Whiplash," as Miles Teller was seen playing the drums during the bit.
So, if you feel like seeing a nearly nude Neil Patrick Harris, check out the video above.
Citations: Neil Patrick Harris Took To The Oscars Stage In Just His Underwear (BuzzFeed)