Music To Help You Move On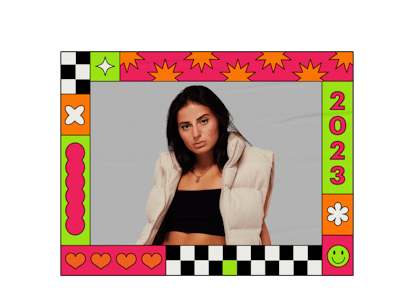 Natalie Jane Wants You To Scream Her Songs
The 19-year-old is taking over FYPs, one powerful riff at a time.
Lindsay Hattrick/Elite Daily; Joseph Morrisson
Last November, American Idol Season ​​18 alum Natalie Jane started her morning the same way she usually does. She set an alarm for 6:30 a.m., briefly awoke to post a video to her TikTok, and went back to sleep. Little did she know, when she'd get up a few hours later, her life would be forever changed.
The 16-second-long video is perhaps mostly nondescript. Jane stands beside her friend and fellow artist Geena Fontanella in an empty parking garage with the track for Gnarls Barkley's "Crazy" playing on a portable speaker in the foreground. Jane belts out the first few lines of the song before nailing an intense riff and shouting "Whoa."
"It took at least 40 tries," Jane tells Elite Daily. "I could tell [Geena] was on the verge of saying 'Nope, Natalie, not today. We're not going to get it today.' So that's why when I did the riff and screamed, it was [because] it was the first time I ever did it. It was pure shock and very, very exciting at the moment."
Now, almost a year later, she has garnered more than 8.2 million fans on TikTok alone, has finished her debut album, and is set to go on her first-ever European tour (which is almost entirely sold out, BTW). Oh, and she's only 19 years old. "It's kind of been a bit of a roller coaster, honestly. … It was really wild to see everything happen so fast," she says.
With 140 million views and counting, Jane's video went on to become an empowering trend for people to share different aspects of their talents that surprised them and it even earned her a spot in the Spotify studio alongside CeeLo Green himself.
Now labelmates with her former American Idol judge Katy Perry (Jane made it to the Top 40 in Season 18 when she was 15 years old), the singer's life looks completely different than it did even just a few months ago. These days, she's singing "Praying" with Kesha in the parking garage that made her famous, promoting her new single "Do or Die" on TikTok (the song came out Aug. 25), and gearing up for a fall tour with Bishop Briggs that kicks off in September.
After graduating high school on the East Coast, Jane made a rather unexpected decision to pack up her life and move to Los Angeles in 2022. While Jane's been singing since she was a baby, posting singing videos to social media since she was 13, and songwriting since she was 15, her choice to forgo college and move across the country wasn't the so-called traditional path her parents, or her siblings, followed.
"It definitely took [my parents] some convincing to allow me to not go to school and move out here," she says. "It was definitely an adjustment, but I think they're happy now."
And they should be. Jane went from knowing three people in the L.A. area to forming her own community of fellow artists and TikTok stars who frequently make cameos in her videos, including Briggs, Sadie Jean, and David Lee. It's a testament to how Jane uses social media to not only build her brand but also to form relationships with her fans. From panda jokes (her favorite animal is a panda, and she often asks her fans to leave panda emojis as comments on her videos) to a personal phone number her followers can text her on, Jane is dedicated to forming authentic connections with the people around her.
"I want the people that follow me to not just be people that watch me on a screen; I want them to feel like they kind of know me," Jane says. "I'll go live a lot just doing my makeup, or ... I'll text them or I have a Discord with all of them, and it's really fun."
Now, when she meets people at her shows, she knows a few of them by name. The "Natalians" — her fan name is still being workshopped — shower her with panda emojis when she's live on TikTok and even bring her panda-themed gifts when they meet her IRL.
I'm just trying to create an environment where people can sing or scream these songs and make them feel empowered and make them feel like 'Oh, I don't need this person in my life.'
Still, it's not just Jane's forthcoming personality that sells out shows and gets her millions of views on TikTok. In addition to writing and co-writing most of the songs on her debut album — which was nearly two years in the making — Jane brings an energetic, unapologetic, and refreshing vibe to the pop music genre.
"I'm just trying to create an environment where people can sing or scream these songs and make them feel empowered and make them feel like 'Oh, I don't need this person in my life' and help them move on," she says. Jane goes on to describe much of her new music as a group therapy session with super intense love songs that give off "Harley Quinn, Joker vibes."
"People can expect a roller coaster of emotions and anger, but it'll settle at some point. It's just going to be listening to my thoughts over the course of the past two years," Jane teases of her upcoming album. "I'm trying to make it sound really cinematic. … I'm just dramatic, and I think it's the best for screaming in your car. I think it's funny, because my friends say [I give off] 'happy little unicorn vibes,' and then my music is the complete opposite of my personality. It's dark and intense."
But that's exactly what she intends. Just as you associate Mariah Carey with whistle-tone love songs, Jane wants to be known for the vigor she brings to her own music. She's constantly singing while cardio training to make sure she can run around and jump with the crowd when she's on stage. She wants her fans to feel like they could go cliff-jumping or have a jolt of adrenaline while seeing her perform live, or even listening to her music in the gym. Something that gets your heart pumping and the passion within you ignited.
While Jane's basically taken over For You pages everywhere, her career's only getting started. This time next year, she wants to plan another tour and connect more with her fans.
"That's my favorite part of everything, more than social media and writing, is I like being on the stage and singing with people and putting on a show," she says. "Once I'm on stage and you can see people's faces singing the songs that you created, you know in that moment, that's the best feeling."