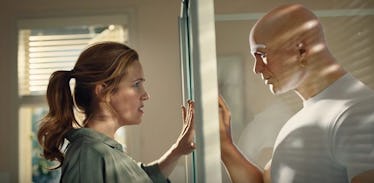 Weirdly Sexual Mr. Clean Super Bowl Commercial Will Make You Feel So Awkward
YouTube
OH, GOD. FINALLY. WE'RE FINALLY TALKING ABOUT HOW HOT MR. CLEAN IS.
The national conversation surrounding how fuckable this cartoon janitor is has long gone ignored.
For years, we've hidden our fantasies of holding his smooth, baldy head in our hands and gently nibbling on his fluffy eyebrows before paying some much-needed attention to that one gold earring.
HE HAS THE CHEST OF A REAL MAN.
We can't ignore it any longer.
His butt looks like two steamy cornish hens at a fancy dinner party where everyone gets their own hen.
I'M DROOLING EVERY DAMN WHERE IN THE NAME OF HENS AND HAMSTRINGS.
A new Super Bowl commercial finally asks America, "You wanna get down on this cartoon mouth too, right?"
Yes, Mr. Clean. Yes we do.
The ad features Sarah, some lady with a sort of dirty house and a very dirty imagination (shout out to Sarah — making her fantasies public for all us thirsty bleachsluts).
Instead of cleaning, Sarah just sort of watches Mr. Clean swing around a bucket of cleaning supplies while he shakes that fine ass all around the house.
Throughout the spot, Mr. Clean is so sensual the fact he dresses like a pirate angel hairdresser circa 1992 ceases to matter. He exists only as a sexual being, sent from heaven to scrub our grout and then RUIN IT WITH SHOWER SEX.
The ad's tagline, "You gotta love a man who cleans," is cute, but misleading.
The beauty of Mr. Clean is that you don't have to love him.
When the mood is right, you celebrate his cartoon body and release him to some other horny lady with hair all over her living room carpet.
Set that bird free, ladies. He'll be back when you need him most but, in the meantime, you have to let him fly.
Citations: Mr. Clean's Erotic Super Bowl Ad Makes Us Feel Really Uncomfortable (Us Weekly)