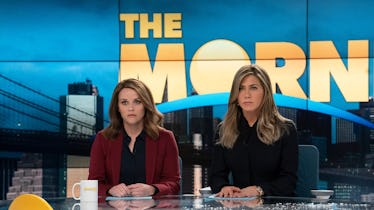 The Morning Show's Season 2 Trailer Pits Jen And Reese Against Each Other
Can't they just get along?
Apple TV+
Although The Morning Show first hit Apple TV+ to generally negative reviews in the early episodes, critics had changed their tune by the time the finale rolled around. The show started slowly, but it had more than a few things to say about the entertainment industry and the power dynamics between men and women in the workplace. With The Morning Show Season 2 arriving soon on Apple TV+, fans are excited to see where the show goes next. So, here are the details we know so far, including the new trailer:
Starring Jennifer Aniston, Reese Witherspoon, and Steve Carell, The Morning Show began as a ripped-from-the-headlines drama. Alex Levy (Aniston) and Mitch Kessler (Carell) are an anchor team at the popular The Morning Show, who are suddenly broken up when Kessler is charged with sexually harassing the employees at their station, UBA. As the show frantically looks for a replacement, they land on conservative darling Bradley Jackson (Witherspoon), who becomes Levy's new co-host.
Although the show begins as a story of two women thrown together as frenemies trying to keep The Morning Show's ratings above water, it soon becomes a far more complicated narrative about who has power behind the scenes, and who can take that power away.
The Morning Show Season 1 is streaming on Apple TV+.
This article was originally published on