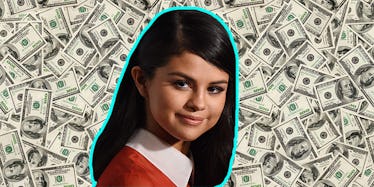 Here's How Much Selena Gomez Gets Paid For One Instagram Post
REX/ Shutterstock
It's no surprise the top social media influencers are women.
Kendall and Kylie Jenner, Rihanna, Beyoncé, Taylor Swift and Miley Cyrus all ranked highly on data company D'Marie's  list of social media's most powerful players.
The Supreme of the social media coven, however, is Selena Gomez, who holds down the number one spot.
The 23-year-old's impact on the 180,810,422 followers who scroll through her posts daily grants her more than just exposure.
An estimate from D'Marie claims posts Selena shares across Twitter, Instagram and Facebook are worth $550,000 (up from her $250,000 per post Adweek reported last December).
Remember that movie "Jennifer's Body," where Megan Fox gained demon strength from eating boys, or whatever?
Consider Selena's personal brand Megan Fox, aka Jennifer Boy Eater, and her followers fictional high school boys.
At a rate of 200,000 new followers each day, Selena's brand is becoming an unconquerable supernatural force of sorts.
The title of Most Liked Photo on Instagram is currently held by Selena and — wouldn't you know it — it's a branded post for Coca-Cola.
Keep eating those boys, Selenifer. We live to feed the beast.
Citations: Guess How Much Money Selena Gomez's Social Media Posts Are Worth (Spoiler Alert: A Lot) (E! News)