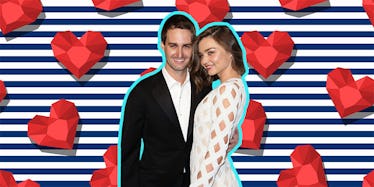 Miranda Kerr Just Got Engaged And Her Ring Is Seriously Insane
REX/Shutterstock
Miranda Kerr either hasn't Googled her own net worth or has finally found true love with a young, handsome self-made billionaire. Or both.
The Victoria's Secret model is officially engaged to Snapchat founder Evan Spiegel after a year of staring deeply into each other's eyes over expensive steaks, probably.
She shared a snap of her big, fat engagement ring, along with a custom Snapchat filter of the couple, on Instagram.
The 26-year-old Snapchat CEO/potential future chin model founded the social media platform while still attending Stanford. According to Forbes, Spiegel is valued at an estimated $2.1 billion, ranking him among America's Richest Entrepreneurs Under 40.
Spiegel met his 33-year-old supermodel fiancée at a Louis Vuitton dinner in New York in 2014, though the two didn't begin seeing each other until the next year, Daily Mail reports.
Earlier this year, Kerr told The Edit she waited six months to introduce Spiegel to her 5-year-old son Flynn, whom she co-parents with ex-husband Orlando Bloom.
She told the magazine,
[Orlando and I decided] that we had to know the person for six months and feel good about them [before introducing them to Flynn]… Evan met Flynn, so, yeah, things are going well. Orlando thinks he's great. We're just a modern family now!
Congratulations, Miranda and Evan! Enjoy your doubly surreal life of glamour and style and very large boats.
Citations: EXCLUSIVE: 'They are extremely happy!': Miranda Kerr engaged to Snapchat founder Evan Spiegel Read more: http://www.dailymail.co.uk/tvshowbiz/article-3699619/EXCLUSIVE-extremely-happy-Miranda-Kerr-accepts-proposal-Snapchat-founder-Evan-Spiegel.html#ixzz4Ey7IRQqU Follow us: @MailOnline on Twitter | DailyMail on Facebook (Daily Mail)