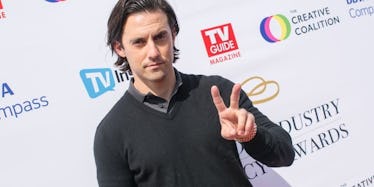 Milo Ventimiglia Shows Up To The Emmys Without His Mustache & We Feel Lost
(Photo by Gabriel Olsen/WireImage)
RED ALERT. Hipsters around the world this is Not A Drill, I repeat, this is Not A Drill. Milo Ventimiglia of This Is Us showed up sans mustache at the 2017 Emmy Awards. This means mustaches are officially over. Out, gone, totally 2016. Go out, get shaving kits, and take heed. When one of the stars of This Is Us, who is totally nominated for an Outstanding Best Actor In A Drama award arrives at the red carpet with these sort of facial hair changes it is a sign.
Now, to be fair, Milo didn't shave yesterday. He's actually been barefaced all week at the run up events to the 69th Annual Emmy Awards. But the fact of the matter is, most of those who watch the Emmys haven't paid the slightest bit of attention to all that, not even the Creative Arts Emmys. (Or if they have, they read about it, and didn't see Ventimiglia's unshaven look. So this is the first time many fans are getting a load of it, and it's causing waves.)
But, I mean... come on.
Also, that tux is a very nice fit, even if it is a bit on the standard issue side.
Milo Ventimiglia is not the only one nominated this evening for an Outstanding Best Actor In A Drama Award from This Is Us. He's up against co-star, and good friend, Sterling K. Brown. Perhaps he was concerned his hipster-ish facial hair ways might work against him in the judging since Brown is a clean shaven guy?
To be fair, facial hair probably isn't Ventimiglia and Brown's problem this evening, it's the being pitted against each other that will be the biggest impediment to their path to the win. One thing about the Emmy voters is that when they are confronted with split decisions like this, they tend to vote for something else entirely. (This has been Game of Thrones' greatest issue in the Supporting Actor and Actress categories. Because no one is nominated in the Lead categories, they all bunch up in the secondary, and then the trophies go home with an actor or actress from a completely different show altogether.)
This Is Us has a rather large hill to climb period this evening, not just in the Lead Actor category, but across the board. Network dramas have been on the outs with the Emmy voters for over a decade now -- the last one to win an Emmy was (of all things) 24, back in 2006. The last one to be nominated was in 2011. Since then, the Drama category has been dominated with cable shows like Mad Men, premium shows like Game of Thrones, and streaming shows like House of Cards. There's been little space for old school channels like NBC to get a word in edgewise, let alone a show on the ballot.
But then again, This Is Us has been beating odds everywhere this past year. With shows like the aforementioned tacking up at the oxygen about TV dramas, something like an old school, family weepfest drama that both pulls the heartstrings and makes an audience fall in love with the characters deeply has been viewed as a show that audiences were no longer looking for. Most people looked at This Is Us ahead of its debut last fall and assumed it would be dead on arrival in the ratings, even if it was so well done.
That This Is Us even made it this far is something of a modern-day miracle (as well as perhaps a sign of changing fashions). That Ventimiglia has shaved could be the sign of more. Either way, boys, if everyone turns up clean shaven at Christmas, we'll know who to blame.