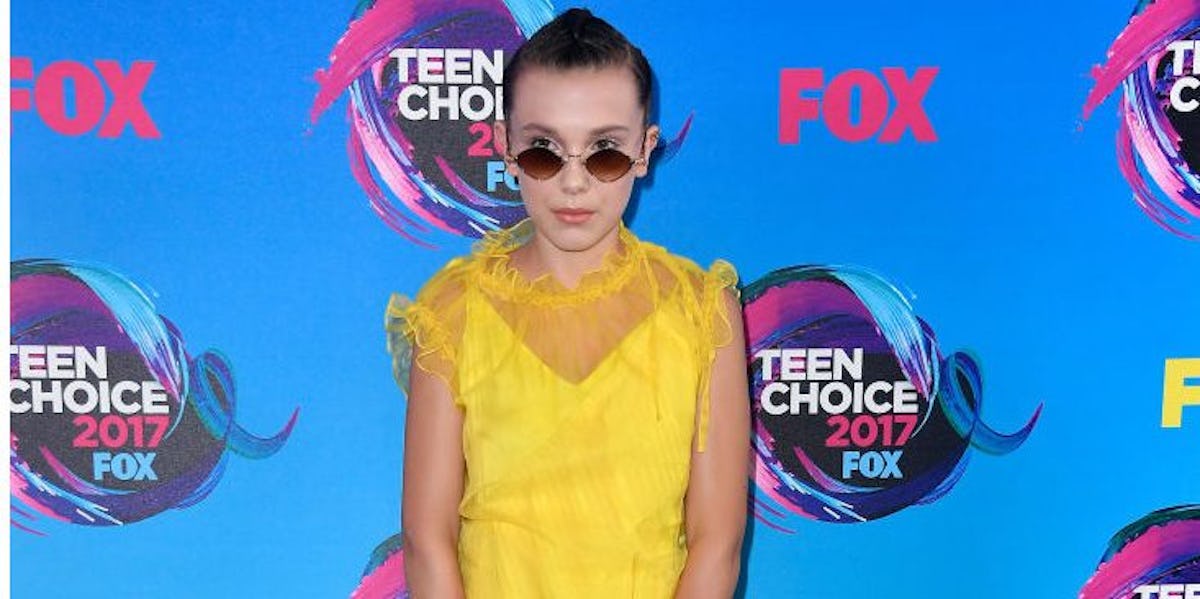 Millie Bobby Brown Looks Like A Completely Different Person At The Teen Choice Awards
Frazer Harrison/Getty Images
OK, so I know there is always a lot to pay attention to at awards shows and, as someone with the attention span of a sugared-up squirrel in the middle of Disney World, I'll be the first to say the Teen Choice Awards is no exception. That being acknowledged, though, we need to take a second to talk about Millie Bobby Brown at the Teen Choice Awards. I mean, WOW. Just when you thought you couldn't love Eleven anymore than you already did, she goes and shows up at the TCAs' red carpet looking like a gosh darn STAR and proves you wrong.
The nominee for Choice Breakout TV Star (not to mention Emmy nominee) showed up and showed out on the blue carpet sporting a bright yellow dress, matching strappy heels, and sunglasses... she's so stylish I almost forget her character on Stranger Things is usually either dressed in a hospital gown or a dusty ass old blonde wig. Take a gander at the starlet's look from this year's red carpet below and be careful not to take too much of a double take when you see it. It's safe to say that she stole the show before it even started.
Of course, Millie's star ~power~ (hehe) doesn't come from what she's wearing, how she carries herself on a red carpet, or how she interacts with reporters, it comes from her talent and her innate ability to access Eleven's complicated experiences with truth and subtlety. It's just that we're so used to seeing Brown in character as El on Stranger Things, and her work is so entrancing, it's easy to forget there's an actress behind all of that, so seeing her transformed on the red carpet is always a noteworthy surprise.
This isn't the first time we've seen Brown serving flawless looks at an awards show, though, no sir. She stunned us all with her taste and her poise earlier this year at the SAG Awards where she was nominated for Outstanding Female Actress in a Drama Series, as well as at the Golden Globes. We also saw Millie in May at the MTV Movie and TV Awards where she took home the golden popcorn for Best Actor in a Show.
The 13-year-old actress is set to appear in the highly anticipated Godzilla sequel, as well as in Stranger Things Season 2, premiering in October; so she better get a whole bunch of other red carpet looks ready. I think this is only the beginning of Millie Bobby Brown's many, many awards show appearances — and hopefully wins.