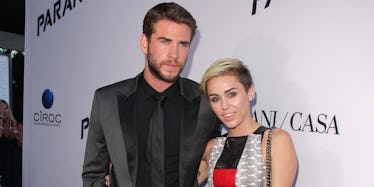 Miley Cyrus Got A Food Tattoo For Liam Hemsworth And We're Not Sure How To Feel
REX/Shutterstock
Miley Cyrus may be more wifey than party girl these days -- but there's proof on Instagram she's still got a wild side.
The 23-year-old showed off her new ink in honor of buff bae Liam Hemsworth on Sunday.
And what better Aussie homage than a jar of vegemite? It's kinda cool actually, take a look:
*Squeals with excitement*
It was posted by Los Angeles tattoo artist Dr. Woo, who wrote, "Miley Cyrus don't play when it comes to vegemite."
YAY -- the love is real. We hope this time it's here to stay.
The couple looked like they were getting back to together earlier this year when Liam shared a pretty deep quote with GQ magazine. He said,
I guess when I feel something, then I just feel it and I go for it. I make my decisions about what's going to make me happy, what I think is right and what I want to do – and I don't worry too much outside of that.
Then, when he was asked about his relationship with Miley, he added, "People will figure it out, they already have… They're not dumb."
It was obvious the couple had never really moved on from one another. Miley was regularly pictured rocking her swanky engagement ring Liam gave her before they split back in 2013.
And the love just keeps on coming. Only a few weeks ago Miley declared her devotion to the Aussie hunk of man-meat with this awesome T-shirt:
The underrated heart-eye cat emojis say it all.
Then there was this cute yet disgusting pic of Miley sharing a bed with Liam's shaggy dog:
We can all relax now, friends, it looks like these guys are in it for the long haul.
Miley + Liam 4eva.