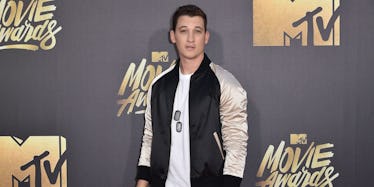 Miles Teller Looks Totally Different Now And We Don't Know How To Feel
REX/Shutterstock
JESUS EFFING CHRIST, WHAT THE BALLSACK DID YOU DO TO YOUR HEAD, MILES TELLER?!!
The ESPYs were last night, though you probably missed most of the show as you were busy jabbing your eyes out with a drumstick while screaming, "WHY DOES GOD DO EVILS ONTO THIS WORLD??!?!?" after you took a look at Miles Teller's hair.
Seriously, there are literally no words for what the 29-year-old "Whiplash" star has done to his head.
WHAT. THE. HELL. WAS. MILES. THINKING?
Just to give you some perspective, here is a picture of Miles handing out the Best Comeback Athlete award with Danica Patrick as she attempts to not puke all over the stage.
OK, OK, OK, OK, OK, I'm sorry. I may have been wayyy too harsh on Miles' hair choice. If there is any young actor on the planet who has earned the right to experiment with aesthetics, it's him.
I mean, he was GREAT in "Stan."
RIP, the Miles Teller we all knew who didn't look like he was hit by a radioactive mayonnaise truck.
The internet really JK Simmons-in-"Whiplash"-ed Miles and his dumb hair this morning.
Jas Ketchum has maybe the best commentary on anything EVER with this line about Miles' hair.
Eff, this is WAYYY too real.
Nooooooo Miles Teller dyed his hair blonde and looks like a middle-age soccer Dad now. — serena (@serenaaax13) July 14, 2016
This is the only thing Miles Teller has done that is worse than "Fantastic Four."
Citations: What Has Miles Teller Gone and Done Now (The Cut)