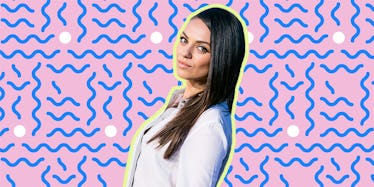 Mila Kunis Just Fooled Us All With This Dramatic Hair Trick
REX/Shutterstock
MILA KUNIS, YOU SORCERESS OF DECEPTION.
YOU DIDN'T ACTUALLY CUT YOUR HAIR, DID YOU?!?!
The "Bad Moms" star showed up to a private screening of the comedy on Monday in New York with what appeared to be a 1920s flapper bob.
When the 32-year-old turned and gave photographers a look at her profile, however, it became apparent her long locks had simply been tucked and pinned at the nape of her neck.
I FEEL SO LIED TO, MILA.
The actress, who is expecting her second child with husband Ashton Kutcher, wore an Ulla Johnson jumpsuit and looked absolutely stunning despite spending the whole night duping us with Taylor Swift-level deception regarding the strands of keratin and dead skin cells on her head.
JUST BE HONEST WITH US!
Your hair is like a chocolate waterfall. We want to support all of the choices you make regarding it, but you have to keep us in the loop.
In the future, please respect the circle of trust that keeps us all connected in the pursuit of transparency, dependability and good faith.
Citations: Mila Kunis Looks Just Like a '20s Flapper With Her New Hairstyle (Us Weekly)