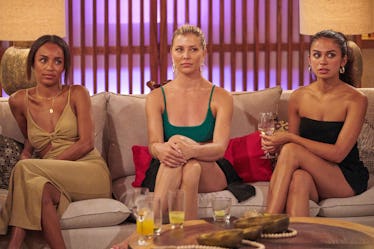 A Meme Recap Of BIP's Wild Finale Reunion
From clapbacks to confessions, there's so much to unpack.
ABC
Half the fun of watching Bachelor In Paradise is tuning in to the online commentary about everything that goes down. So obviously, Twitter did not mess around whe Bachelor In Paradise Season 8's finale reunion aired on Nov. 22. In case you missed it, this season has been a journey — one that's included surprising self-eliminations, spoiler-filled TikToks, and Split Week (aka The Bachelor's version of Love Island's Casa Amor). It's not exactly a surprise, then, that this reunion special was as dramatic as can be... perhaps *gasp* the most dramatic ever? (Jesse Palmer can dream, right?)
Fortunately, Twitter was there to react to every awkward, suspenseful, and romantic moment during the Nov. 22 "After The Final Rose" reunion special. From shocking accusations to uncomfortable confrontations, the cast most certainly did not hold back. Logan Palmer finally got a chance to publicly respond to Kate Gallivan shaming his financial status, while Victoria Fuller finally cleared up those cheating rumors between her, Johnny DePhillipo and Greg Grippo (from Katie Thurston's season of The Bachelorette). And of course, there was plenty more in between to squeal over.
Here are the wildest moments from the BIP reunion — as told by memes. And brace yourself, because Twitter was more than ready to roast.
Logan Clapped Back At Kate
Kate wasn't exactly kind to Logan during their time together in Paradise, often referring to his financial situation (ahem, the fact that he couldn't afford Equinox) as a serious problem in their 'ship. Kate apologized and claimed she didn't mean her comments in a malicious way.
Logan defended himself and his career choices during the reunion. "I did whatever I could for a whole year [to make money while pursuing a career in film], and she tried to humiliate me for it in front of her friends," he said, before adding that he would have been able to "explore other things" had she been honest with him from the beginning. Of course, Twitter loved his speech.
Jacob Asked Jill Out
Although Jill and Jacob didn't stay together in Paradise, they made up for lost time with their cute moment at the reunion. Jacob got up from his seat to speak to Jill, and his words were seriously sweet. "I think you and I do actually have a real connection. I'm open to a relationship with you if you are," he told her. Jill replied, "I'm open as well." Cue plenty of cheers from the audience, a Jacob-Jill smooch, and him carrying her off stage.
Tyler & Brittany Addressed Their Breakup
Although Tyler and Brittany left the beach happy as boyfriend and girlfriend, their romance didn't make it in the outside world. According to Tyler, Brittany actually dumped him over FaceTime... on the same day The Bachelorette episode aired of him being dumped by Rachel. Brutal.
According to Brittany, their relationship became too much, and Tyler wasn't giving her space, even when she specifically asked for it. "I didn't want to waste my time or energy," she told her ex. She ended up laming their split on a communication breakdown, but added, "I loved you so much. That was all real to me." Still, things seemed tense — and Tyler called Brittany out for not checking on him post-breakup.
Michael Apologized To Sierra & Gave An Update On Danielle
Bachelor Nation is pretty much in love with Sierra — and everyone agreed she was owed an overdue apology from Michael. So before Jesse asked for an update on Michael and Danielle's current status (she's moving to Ohio and they're in love, BTW), he gave Michael the floor to address Sierra.
"I didn't give you the kind of closure that you needed. You deserved a lot more than that. I couldn't give you the type of love that you were giving back to me," he told her. "I'm incredibly sorry that I hurt you." Sierra, the ultimate class act, didn't seem to hold a grudge. She assured him, "I want you to find the perfect person for you."
Johnny, Victoria, & Greg Opened Up
Surprising no one, Johnny and Victoria confirmed that their engagement was over during the finale. "As of right now, me and Victoria are not engaged anymore," Johnny told Jesse. He also accused her of cheating on him with Greg. "I still consider talking to someone else while we're working through our issues cheating or emotional cheating," he told her.
Victoria, for her part, had another story. Per her, she told Johnny early on things weren't working. Her exact quote? "I am not going to be engaged to you if we're fighting this much, this soon, and this toxic." Apparently, a month after filming wrapped, things were over. At the time, she and Grippo were already friends, so they decided to test their relationship out with a trip to Europe.
Obvi, things went well, and they're super smitten (to the point of getting matching "Ciao" tattoos). Not to mention, they don't seem to care about the world's (or Twitter's) opinion. "At the end of the day, no one has to understand it or get it. Everyone can hate us if they f*cking want, and I don't give two sh*ts cause I have this [guy]," Victoria said on the show. Tea!
Brandon Proposed To Serene
Brandon and Serene — this season's most stable couple — got engaged, and it was as perfect as everyone expected. During their proposal scene, Serene told her now-fiancé, "I love you so much, and I am never going to take that for granted." Brandon was equally lovey-dovey. "I love you in every sense of the word. You are this everlasting spark that has hit me so hard… I will love you until the end of time," he told her. "I want to start forever with you."
Even though they didn't get married on the beach (despite Jesse's surprising announcement that he was ordained to do exactly that), their relationship could not be sweeter. Of course, Twitter was happy for them.
All's well that ends well to end up on Twitter, I suppose.