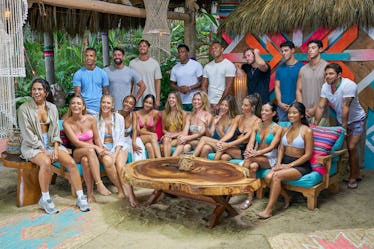 Twitter Went *In* On These BIP Finale Breakups
ABC/Craig Sjodin
Just as Wells Adams said at the start of the Nov. 21 episode of Bachelor In Paradise, this season has been full of countless twists and turns. Couples have gotten together, split up, and gotten together again, all to make it this far to final week and the final rose ceremony. But just because they made it this far, that doesn't mean they're in the clear. In fact, the finale is when a lot of Paradise breakups happen, and this year it was no different. The memes about the BIP Season 8 breakups show just how wild the finale was.
The final week of BIP consists of two full two-hour episodes, but at the beginning of the Nov. 21 episode, host Jesse Palmer announced, "As of right now, Paradise is over." Of course, that didn't mean the show itself was over, just there were no more rose ceremonies and no more date cards to get passed out, so all that was left was some heavy conversations and big decisions. The pressure was on as couples decided whether or not to get engaged or, at the very least, leave Paradise as a couple. A bunch of couples couldn't handle that pressure, and the first episode of the BIP Season 8 finale saw a lot of breakups.
Twitter saw a lot of memes about those breakups from Bachelor Nation.
Logan & Kate
The first breakup of the night happened in front of everyone else during the final rose ceremony. Logan Palmer was ready to offer Kate Gallivan his rose. Kate, however, had other plans. "When Jesse asked us if we were happy and in love, the answer from me is no," Kate told him, before she went on to criticize Logan for saying that she looked down on him. Logan was left feeling like he lost a part of himself while trying to please Kate, while Kate left hoping she'll someday get "a guy with a big d*ck and a bigger bank account."
Joey and Shanae
After the rose ceremony, it was time for the couples to make sure they were on the same page moving forward. Joey Young thought he and Shanae Ankney were in it together, but Shanae had other plans. She told him that their age gap was a problem (he's 24 and she's 30) and said she felt like his "cool, fun aunt." "At the end of the day, I'm looking for a husband, not a TikTok boyfriend," Shanae said, making it clear that she was looking for a more serious relationship than she felt she could get from him.
Justin and Florence
While Joey had a big breakup talk with Shanae, his twin brother Justin had a much more to-the-point conversation with Florence Alexandra. Justin simply told Florence he didn't think they should continue their relationship outside of Paradise, and Flo said, "I agree." It may have been the least messy breakup in Paradise history, and it freed Justin up to leave the beach with his brother.
Aaron & Genevieve
And then there was the hot mess of Aaron Clancy and Genevieve Parisi. Their breakup was so big, it required not just one, but two huge conversations. You can't really expect anything less from the couple that had the most explosive fights all season long. Aaron told Genevieve that he couldn't trust her to always stick around since she was so ready to leave whenever they fought. Genevieve accepted that... at first. She stepped back for a moment and realized she didn't get a chance to tell Aaron what he did wrong in their relationship, so she circled back and made sure she got the last word. As she left Paradise alone, Genevieve stole Aaron's catchphrase and said, "I just wasted my time on a child, and that's big facts."
The second part of the Bachelor In Paradise Season 8 finale airs Tuesday, Nov. 22, at 8 p.m. ET on ABC.