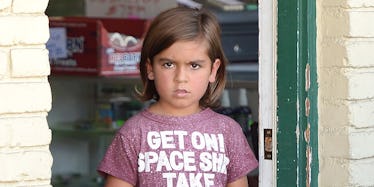 Mason Disick Recreated The Best 'KUWTK' Joke On Khloé Kardashian's Snapchat
REX/Shutterstock
If anyone knows how to recreate a prime Kardashian joke, it's little Mason Disick.
Kourtney Kardashian and Scott Disick's 6-year-old son poked some fun at one of his dad's hilarious jokes made popular on E!'s  "Keeping Up with the Kardashians."
Here's a hint -- it involves "Auntie Kris" and an iPhone.
Let's take a look back at Scott Disick's epic "Todd Kraines" joke.
Mason Disick decided to take over Khloé Kardashian's Snapchat this week with his own hilarious rendition of the "Todd Kraines" joke.
Mason peers into the camera as Scott adjusts his trucker hat before saying, "Hey, it's me, Todd Kraines!"
Let's just say this kid is SUPER convincing, and if Kris Jenner were on the phone, she might actually fall for it.
Lights, camera, action!
I don't know about you, but I think Scott Disick might actually be able to quit reality TV for the rest of his life and let his stunt double Mason take over.
The little dude is really starting to take after Lord Disick's humorous ways -- and this is certainly proof.
You know what they say... "Like father, like son!"