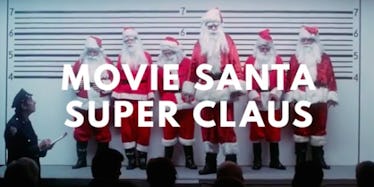 This Epic Mashup Of Movie Santas Will Put You Right In The Holiday Spirit (Video)
Santa Claus is coming to town! Saaanta Claus is coming to town! San-ta Claus is com-ing to tooown!
Who loves Christmas more than 'Ol Saint Nick himself, Santa Claus? Hailing all the way from the North Pole once a year, this guy dedicates his entire year -- scratch that, his entire life -- to making his list, checking it twice and finding out who's naughty or nice.
Pretty selfless guy, that Santa.
He wiggles his way down our soot-covered chimneys on Christmas Eve, takes a few nibbles of our scrumptious cookies and nestles our presents under the tree. Then, he's off into the starry night on his reindeer-led sleigh, until the holidays roll around again.
There's no better representation of the fictional fat man than our favorite movie characters in classic films like "Elf," "Jingle All The Way," "Miracle On 34th Street," "The Santa Clause," "Scrooged" and "A Christmas Story."
The guys at Burger Fiction put together the mashup above, incorporating a host of movie Santas in characteristic moments that are sure to leave you wanting to binge-watch all these holiday classics.
Who's your favorite movie Santa to date?