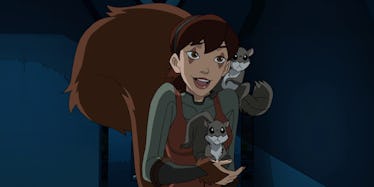 Marvel Has Finally Cast Its Squirrel Girl, But It's Not Anna Kendrick
Disney XD
Comic fans have been waiting years to finally see a live-action version of fan-favorite hero Squirrel Girl, and the wait is finally over! Marvel just announced the actress who got the part, and it's not who you expected.
Most people were assuming that the role would go to Anna Kendrick after the Pitch Perfect star expressed her interest in the part in an interview with Net-a-Porter last year.
My brother sent me a Squirrel Girl comic because he thinks I should [play her]. I don't know what Squirrel Girl does other than be half squirrel, but I could be half squirrel!
After that, the internet was sold. Marvel fans far and wide expressed their desire to see Anna Kendrick become Squirrel Girl.
But Kendrick wasn't the only buzzy actress vying for the nutty role. Shannon Purser, at the height of her fame for playing the unexpected breakout Barb on Stranger Things, expressed her interest in Squirrel Girl as well.
But despite all that, Marvel went with someone else. For its upcoming Freeform series New Warriors, Marvel has cast Milana Vayntrub in the sought-after role, according to The Hollywood Reporter.
You may not recognize Vayntrub's name, but you've definitely seen her face if you own a television. She currently recurs on This Is Us as Kevin's ex Sloan, and she stars in all those AT&T commercials. Check out the commercial below and I'm sure you'll recognize her.
So, sorry Anna Kendrick and Shannon Purser, but it looks like it's the AT&T girl's time to shine.
Freeform VP Karey Burke previously told The Hollywood Reporter that the network was definitely considering Kendrick and Purser for the role, but also noted the part could be a star-making turn for an unknown actress.
Those names have come up! This network has made a lot of stars and we're in a unique position with Squirrel Girl and Marvel. The character is such a calling card. I'm interested to see if name actresses feel right for it.
New Warriors is set to debut on Freeform in 2018.