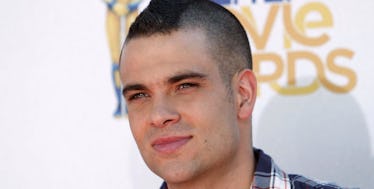 'Glee' Actor Mark Salling Will Face Federal Indictment For Possession Of Child Porn
Reuters
Last December, "Glee" actor Mark Salling was arrested for the possession of child pornography.
The porn was allegedly found in the actor's home, on his computer and flash drive after the Los Angeles Police Department's Internet Crimes Against Children Task Force received a tip and a warrant. The police found thousands of images to support their case.
Now, as US Weekly reports, the actor will face a federal indictment from the US Attorney's Office for two charges related to child pornography. If convicted, the 33-year-old actor could face up to 20 years in prison.
United States Attorney Eileen M. Decker said in a statement,
Those who download and possess child pornography create a market that causes more children to be harmed. Young victims are harmed every time an image is generated, every time it is distributed, and every time it is viewed.
This is not Salling's first brush with the law. In 2013, Salling was sued by his ex-girlfriend, Roxanne Gorzela, for allegedly forcing sex without a condom, sexual battery, assault, intentional infliction of emotional distress and negligence. Gorzela dropped the case after Salling paid her $2.7 million.
Joseph Macias, Special Agent in Charge for US Immigration and Customs Enforcement's Homeland Security Investigations (HSI) in Los Angeles additionally noted in a statement,
While people are often surprised when high-profile individuals come under scrutiny in such investigations, we hope cases like this will raise awareness about law enforcement's vigilance to combat the online sexual exploitation of children and hold those involved, regardless of their position, accountable for their actions.
Citations: Mark Salling Will Face Federal Indictment for Child Pornography Charges (US Weekly)